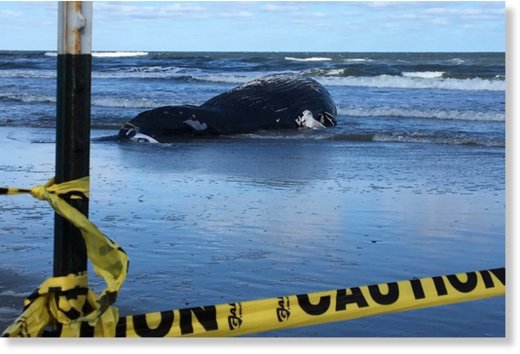 The carcass of a young humpback whale washed up in Sea Isle City on Friday afternoon, 3.p.m.
According to
Press of Atlantic City,
the whale was previously spotted off the coast of Strathmere earlier in the day. The humpback whale's cause of death is still unknown, but Bob Schoelkopf said that the animal could not have been attacked by a shark or any predator because there were no visible bite marks.
Schoelkopf believes that the young animal may have been ill or its mother died. Officials say that the young male humpback whale could have been dead for four or five days before it washed up on the beach,
Ocean City Patch
reports.
Closer view of whale pic.twitter.com/AaShWxz7zW

— Brian Ianieri (@BIanieri) September 16, 2016
Humpback whales, according to the
American Cetacean Society
, eat krill, small shrimp-like crustacean and small fish as their diet. These marine mammals could eat up to one to one-half ton of food a day and could weigh up to 25 to 40 tons. The dead whale spotted in Sea Isle City measures 33 feet long and weighs 20 tons.
Police have secluded the area. The whale will be pulled in a higher area on the beach where it will be there for a night until the Marine Mammal Stranding Center performs a necropsy, which takes about eight hours, to determine how it died. The center is also preparing to remove the humpback whale's body from the beach using heavy equipment.
Humpback whales are slow swimmers and have breeding and feeding grounds close to shore, which makes them easy targets for whale hunters. Because of this, the International Whaling Commission (ICW) has implemented a worldwide protection status on the species. At present, only 30 to 40 percent (about 30,000 to 40,000) of the original humpback whale population exists.