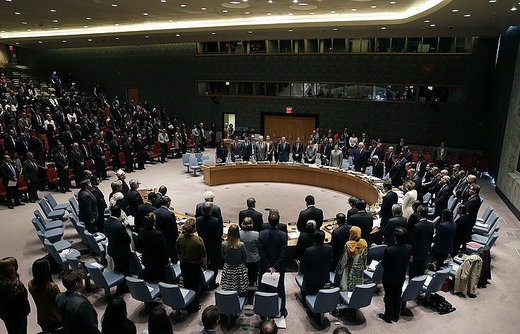 The United States' refusal to disclose details of the bilateral agreement with Russia on Syria has not allowed to hold a UN Security Council meeting on Friday and threatens the adoption of the resolution in support for the deal, Vitaly Churkin, Russian Ambassador to UN, told journalists on Saturday.
"The United States is not prepared to share the document with the members of the Security Council, and not even describe them in detail," Churkin said. "When we agreed to do a briefing, at least you need to describe the content of the document. And in my mind, what we have been saying publicly and my foreign minister (Sergey Lavrov) has been saying publicly, we believe the document needs to be circulated. I mean, why make a secret of them? Those are things on which we are going to base our work if the whole thing is implemented," the diplomat said.
"So, it's another strange, strange attitude of the United States which does not make it possible to proceed with the briefing and also, I'm afraid, to proceed with the adoption of that resolution," he went on.
"We believe that we cannot ask members of the (UN) SC to support something the content of which they don't know,"
he noted. "There is a number of documents there. There is a document which was negotiated on September 9 but as a package, there are a number of documents which were negotiated before, in July, and even before," Churkin explained.
"The most important thing is, of course, what is going to happen on the ground. And lately I heard some encouraging news about the humanitarian effort. So, if the humanitarian effort is going to proceed as planned, then, you know, hopefully, also all other elements are going to kick in, including the start of the joint implementation group, which was formed under the agreement which were reached," the Russian diplomat noted.
"We have no doubt that it needs to be implemented. If they have some doubts, I don't know, and clearly there is lack of unity within the US Administration. But it was Secretary Kerry who was negotiating under instructions of President (Barack) Obama and a deal was made and we expect it to be implemented and we're working very hard on implementation," Churkin concluded.
Russian Foreign Minister Sergey Lavrov and US State Secretary John Kerry reached an agreement on Syria on September 10 after record 13-hour talks. The deal envisages restoration of the cessation of hostilities regime, separating the opposition from terrorists, and agreeing on areas of airstrikes at terrorists by the Russian Aerospace Defense Forces and US Air Force.