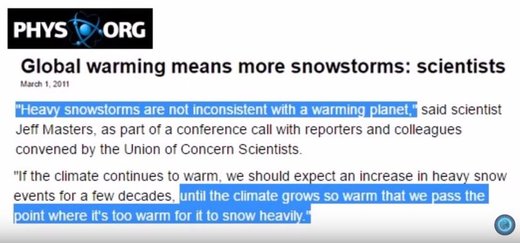 Damage control as clouds increase, snow storms intensify and now to explain it all away new stories stating global warming will result in more snow in the arctic, stronger snow storms and a cease to Greenland Ice cap melting. Matches exactly with the effects of galactic cosmic rays, but the explanation from IPCC is increased ocean evaporation producing more clouds.
Sources:
Jonas: Winter Storms in an Era of Global Warming
https://www.youtube.com/watch?v=sVfJD...
Potsdam Institute Admits Grand Solar Minimum is here, but down plays the effects
https://www.pik-potsdam.de/news/press...
Global Warming means more snow
http://phys.org/news/2011-03-global-s...
http://www.motherjones.com/blue-marbl...
http://dailycaller.com/2016/05/25/stu...
Global warming could drive increasing Arctic snowfall
https://wattsupwiththat.com/2016/05/2...
Now the Greenland Ice sheet will expand because of global warming
http://onlinelibrary.wiley.com/doi/10...
Cosmic Rays form clouds CERN
http://notrickszone.com/2016/05/30/th...
Henrik Svensmark - COSMIC RAYS, CLOUDS AND CLIMATE
http://www.europhysicsnews.org/articl...
List of failed climate predictions
https://wattsupwiththat.com/2014/04/0...
University of Alaska Fairbanks web cam down
http://seaice.alaska.edu/gi/observato...