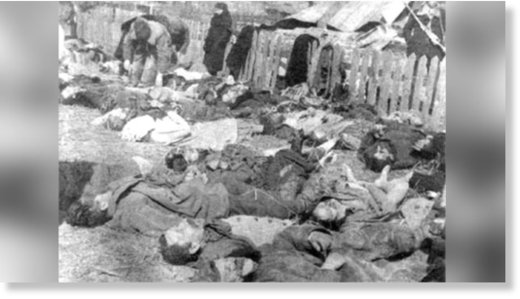 The Russian Communist Party has drafted a motion that, if passed, would recognize as genocide the killing of tens of thousands of ethnic Poles by Ukrainian nationalists in Volhynia Region during World War Two.
The draft, prepared by a group of Communist Party lawmakers headed by MP Sergey Obukhov, reads that on July 11, 1943, two organizations of Ukrainian militants - the Organization of Ukrainian Nationalists (OUN) and the Ukrainian Insurgent Army (UPA) - simultaneously attacked about 100 settlements in Volhynia and deliberately began to kill civilians.
"
Tens of thousands of civilians were killed between 1942 and 1945, the precise number of casualties is still unknown
," the document reads.
The Communists also stated that it was because of help from Soviet partisans that several Polish bases managed to repel the Ukrainian nationalist attacks, albeit with limited success.
"
The State Duma is confident that the protection of the memory about historically important events that took place in this period from politically motivated reassessments and distortions will become a guarantee not only of inadmissibility and impossibility of the rehabilitation of Nazism and its collaborators, but also to the cause of improvement of Russian-Polish relations
," the sponsors of the draft wrote in an attached note.
In June this year, the Polish lower house passed a resolution labeling as genocide the crimes committed by Ukrainian nationalists against citizens of the Second Polish Republic in 1943-1945. Polish lawmakers also declared July 11 'the Day of commemoration of the Poles who fell victim to the genocide committed by OUN-UPA.'
Earlier in the year, the upper house of the Polish parliament also passed a motion declaring that the Polish state recognizes as genocide the crimes of Ukrainian nationalists in Volhynia (also called Volyn) - an area of southeast Poland occupied by Nazi Germany during World War Two. The Polish authorities said that more than 100,000 Poles, mostly peasants, were killed in these events, also called the 'Volhynia massacre.'
However, Polish lawmakers also acknowledged that Ukrainian civilians suffered from reciprocal attacks by Polish forces in the same period.
Ukrainian authorities have expressed regret over the motions. President Petro Poroshenko wrote on his Facebook page that the parliamentary resolution "
saddened
" him as he saw the possibility that it would be used for political speculation.
The Ukrainian Foreign Ministry was more direct, blasting the Polish move as "
negating all the constructive political and diplomatic developments and the efforts of the two countries and peoples aimed at mutual forgiveness and reconciliation
."
In late 2014, the Russian Supreme Court recognized the OUN, UPA and several other Ukrainian radical nationalist groups as extremist and banned their activities in the Russian Federation. Since then, any activities of these organizations in Russia have been outlawed and public demonstration of their symbols declared illegal.