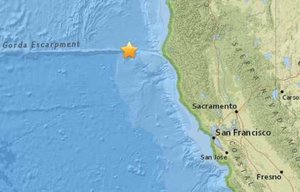 A moderate earthquake with a preliminary magnitude of 5.7 has struck the Pacific Ocean off Northern California, with shaking felt in Fortuna, Eureka and Arcata, witnesses say. No tsunami warnings have been issued.
The earthquake, which struck at 8:27 p.m. PT on Friday, was centered about 52 miles west of Capetown, or 64 miles of Fortuna.
It struck about 1.3 mile below the ocean floor, making it a very shallow earthquake
, according to the U.S. Geological Survey (USGS).
The USGS put the preliminary magnitude of the earthquake at 5.6 and residents in the region reported feeling shaking as a result of the earthquake, though there was no immediate word on damage or injuries. The National Tsunami Warning Center, which initially put the magnitude at 5.7, said there is no threat of a tsunami.