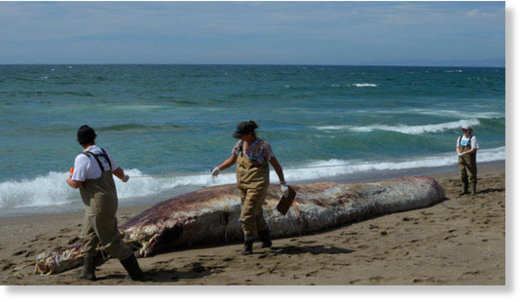 A stranded whale's body was found on the coast of Point Reyes.
A 34 foot long whale that belonged to a deep water species was found stranded on the beach at Point Reyes. This was reported by the Marine Mammal Center.
A group of eleven scientists investigated the case of the stranded whale carcass. It was an adult Baird's beaked whale. A post-mortem of the rotten carcass of the whale revealed that there had been a lot of hemorrhaging on the left side and a severed fluke was present somewhere in its body as well.
The poor whale had probably been struck by a man-made seafaring vessel. This is the first Baird's beaked whale the Marine Mammal Center has seen in such a disintegrated condition in its entire history, according to
Bay City News
.
Less than a dozen such whales have been found stranded in the past on the beaches of Oregon, California and Washington. These beaked whales are a species that has aroused the curiosity and interest of the scientists notably marine biologists.
They are generally toothed species that thrive off the edge of the continental shelf. They go deep into canyons present on the ocean floor to feed on squid which comprise their staple diet.
The necropsy that will get performed on this dead whale will yield tons of data regarding its status and biology to the scientists. This will enlarge the database of this species possessed by the Marine Mammal Center.
Bone samples were collected regarding this whale and its vertebral column was also examined so as to see from which angles it was broken. All hurt or dead marine animals are reported to the Marine Mammal Center.
The people who discover them by chance are advised to stay at arm's length and also not allow their pets to get near the bodies of these marine animals.