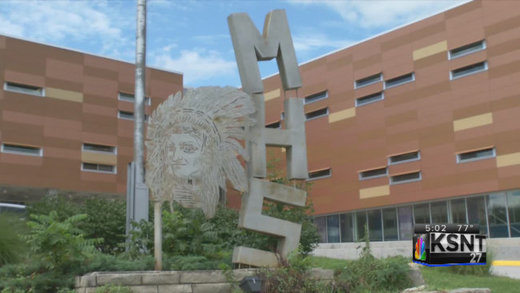 The number of students being sent home at a local high school due to an illness continues to increase daily.
KSNT News contacted USD 383 Tuesday afternoon who says another 10 students have been sent home since noon by the school nurse making the total number of people sent home sick 67.
KSNT News spoke with Riley County Health Department Director Jennifer Green early Monday afternoon. She said there are now 54 reported cases of students sick with vomiting and nausea symptoms. These cases were reported from Manhattan High's West Campus and illnesses were reported last week. Three faculty members have also been sent home sick.
Manhattan High School Principal Greg Hoyt says sending this many students home in one week isn't something you'd see even during the flu season.
Riley County Health Department is asking parents of sick students to provide samples to the health department, located at 2030 Tecumseh Rd. in Manhattan. The number is 785-776-4779. Green said her staff has also contacted several other area school districts but no other similar cases are being reported.
The samples mentioned consist of testing a sample of stool (feces) from all ill (or recently ill) person. During outbreaks, local health departments can provide stool collection kits to anybody willing to submit a sample. The kit will come with instructions and testing will be conducted at the Kansas Health and Environmental Laboratory, which is part of KDHE.
Parents are also being asked to keep students home if vomiting, nausea or diarrhea symptoms are present and once they don't have the symptoms to say home one additional day just to be sure the illness is gone.
KDHE says whether an outbreak spreads depends on what disease is causing illness and how it is transmitted. Many gastrointestinal illnesses can be spread person-to-person as well as through contaminated food or water. It is not unlikely for these illnesses to spread to family members or other persons in close contact with the ill person. Ill persons can be contagious for a period of time before and after they are experiencing symptoms, and there is a period of time after infection before people start feeling ill. It is important to wash your hands and stay home from school or work when you are sick to help prevent from spreading illness.
The school still does not have any information from the Riley County Health Department or the Kansas Department of Health and Environment.
KSNT News continues to follow this story daily and will update as new information develops.
UPDATE: Over 100 students sickened by Manhattan High's mystery illness
Manhattan High School and the Riley County Health Department need parents help getting conclusive information on the mystery illness that's affected over 100 students.

Eighteen students were sent home Thursday for having stomach flu-like symptoms. The total is now roughly over 100.

According to Manhattan High School principal Greg Hoyt, the faculty and staff at the school are taking every precaution to ensure the illness doesn't spread.

"We are very hypersensitive to this so any student showing up in the nurse's office complaining of an upset stomach, any type of nausea; in circumstances where we might feed them a saltine cracker and try to keep them in school, we're immediately sending them home," said Hoyt.

The Kansas Department of Agriculture visited the school on Wednesday to check the kitchen and found no issues.

"As a matter of fact, they believe it is a virus, it was introduced from outside the building and not inside the building," said Hoyt.

As a precaution, KDA advised the school to use a bleach solution to disinfect everything from water fountains and restrooms to handrails and doorknobs.

"The cleaning information provided to us addressed Norovirus, but we don't know that it's Norovirus. We just know that if it is, we want to get a head start," he said. "So that's why the bleach solution was recommended and that's what we're using until further notice."

Parents of sick students are encouraged to send the Riley County Health Department stool samples so they can send to a lab at the Kansas Department of Health and Environment for testing.

"What would really help us out now, is if parents would come in and bring us a stool sample, even if their students were sick last week," said Dr. Jennifer Green of the Riley County Health Department.

"So we're not suspecting anything yet. We are not making speculation about what's causing this until we get confirmed lab results back from the state department," said Green.

The Riley County Health Department is asking parents to keep children home from school if they have any symptoms of nausea, vomiting or diarrhea.

To report these symptoms, call RCHS at 785-776-4779.