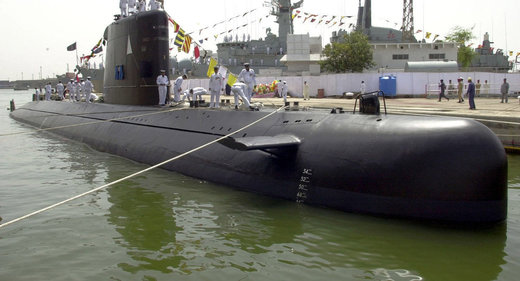 The Chinese government will supply eight modified diesel-electric attack submarines to Pakistan by the year 2028.
In Islamabad the head of Pakistan's next-generation submarine program made the announcement to the country's National Assembly Standing Committee on Defense, while on a August 26 visit to Naval headquarters.
The announcement confirms that the project is going forward, but is it not clear whether a contract has been signed. Rear Admiral Syed Hassan Nasir Shah announced in April that a contract had been secured by the Karachi Shipyard & Engineering Works (KSEW) to construct four of the eight submarines, with the other four being built by the China Shipbuilding Trading Company (CSTC). The submarines will be fitted with air-independent propulsion (AIP) systems.
The agreement between the two nations is valued at $4 to $5 billion and it's anticipated that China will extend a low interest rate loan. Some speculation surrounds what type of submarine the Pakistani Navy will receive. In April 2011, the China State Shipbuilding Industrial Corp signed a contract to supply six Type 032 Qing-class conventional attack submarines by 2016 or 2017.
One Pakistani Foreign Ministry official said, "In the recent past, there have been reports of discussions for the Type 041 submarines." Other media sources have reported that "Pakistan will also build two types of submarines with Chinese assistance: the Project S-26 and Project S-30. The vessels are to be built at the Submarine Rebuild Complex (SRC) facility being developed at Ormara, west of Karachi.
" Most analysts believe that the new craft will be a lighter version of the Type 039 and Type 041 Yuan-class conventional attack submarine used by the People's Liberation Army Navy (PLAN).
The Type 041 Yuan-class sub is "a diesel electric attack submarine (SSK), potentially with Stirling air-independent propulsion, that is armed with YJ-2 (YJ-82) anti-ship missiles and a combination of Yu-4 (SAET-50) passive homing and Yu-3 (SET-65E) active/passive homing torpedoes," according to IHS Jane's Fighting Ships.
The export version of the smaller submarine, weighing some 2,300 tons, is designated as S20. The first four submarines are stated to be delivered by the end of 2023. The others being assembled in Karachi are set to be completed by 2028.
This acquisition of new subs is a part of Pakistan's effort to upgrade its capabilities in underwater warfare. It is thought that the eight subs will form the foundation of the country's blossoming sea-based nuclear second-strike triad.