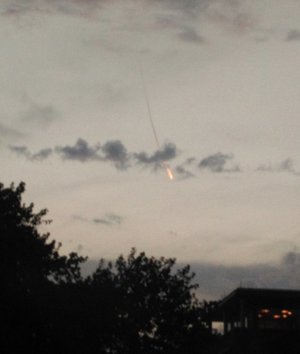 It took just two minutes to blaze across the sky, and now people are questioning the origin of a strange object which was spotted travelling across the Bristol horizon.
After a day of glorious sunshine and soaring temperatures a peculiar flaming trail was seen rocketing across the skyline near Temple Meads on Wednesday night.
Captured on film shortly after 8pm, the mysterious plume has baffled the internet with theories ranging from UFOs to space debris being put forward.
Ruth Hasler from Eastville said: "There had been a rainbow in Totterdown and I was looking around which is when I spotted it.
"At first I thought it was a cloud, but it was going in the opposite direction to all the others. Then I thought it might be a helicopter or a plane crashing because I could see the red glow.
"The smoke then started to go black and it was still alight
. I had absolutely no idea what it was but I quickly took some pictures."
Concerned that someone might have been hurt, Ms Hasler mentioned the incident to her partner.
She said: "My partner suggested that
it might be space debris
, but I still don't know. I don't think it was a meteor, but I have emailed the pictures to a meteor group to ask.
"I also put the pictures on my Facebook page and people kept asking what it was."
Read the rest
here