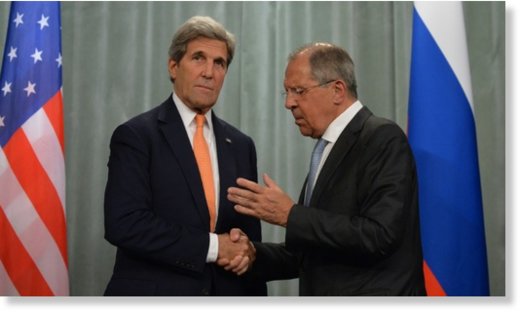 Russian FM Sergey Lavrov and his US counterpart John Kerry have met in Geneva to discuss a peaceful solution to resolve the Syrian crisis. They have been in talks behind closed doors for hours with the UN's Syria envoy making an unexpected visit.
The meeting of the two top diplomats' meeting is taking place at the President Wilson Hotel in Geneva.
The discussion that by far has taken over 10 hours and is still not over is hoped to lead the restart of peace talks on a political transition in Syria.
The two were joined by the UN Syria envoy Staffan de Mistura. It was not clear during the day whether the UN Syria envoy would join the negotiators to share his views on how to put an end to the five-year war.
The main point of the negotiations is to involve "the prospects of arranging a close coordination of Russia's and US efforts in fight against terrorist groups in Syria," Russian Foreign Ministry spokesperson Maria Zakharova said earlier.
The last time Lavrov and Kerry sat down around the negotiating table about Syria was on January 20 in Zurich.
Meanwhile, the UN has pushed for a weekly 48-hour truce in the fighting that would allow it to provide humanitarian relief, which has been endorsed by Russia. According to the plan, food and supplies would be delivered simultaneously by internationally monitored vehicles to rebel and government-controlled areas.
Russia is already delivering humanitarian aid to the civilian population in Aleppo. On July 28, the Russian Centre for Reconciliation in Syria, in cooperation with the country's authorities, agreed on several humanitarian corridors to supply aid to the population in the city. Several of the respective paths were also opened for civilians wishing to leave the city and at least one for the militants who wanted to lay down their arms and exit Aleppo.
Earlier this week, Turkey launched a ground operation in Syria. The ongoing incursion supported by Syrian rebels and US airstrikes was targeting positions of Islamic State (IS, formerly ISIS/ISIL) near the town of Jarabulus.
Damascus condemned Turkish move calling it a "blatant violation of sovereignty." Following the intrusion, the Russian Foreign Ministry also said it was "deeply worried" about the latest development. The body warned of "a possibility of the further deterioration of the situation in the conflict zone."