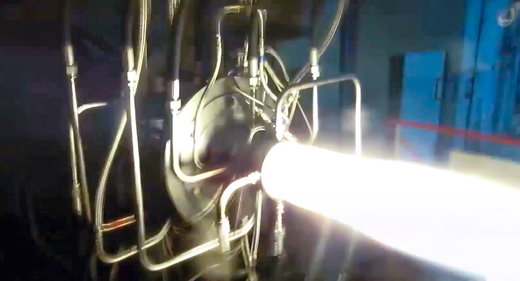 In a breakthrough move, Russian scientists have become the first ever to successfully test a pulse-detonation rocket engine (PDRE) on clean fuel, claiming this will be the future of space travel. The tests were run in July and August, but the announcement was only made on Friday on the
homepage
of the Russian Advanced Research Foundation (FPI), which is in charge of the project. The scientists say they have built and tested "
the world's first full-size pulse-detonation rocket engine demonstrator" that uses clean fuel, namely an oxygen-kerosene pairing
.
The current liquid fuel engines used by rockets to get to space have reached their maximum capabilities, according to the FPI. Instead, a
pulse-detonation engine that uses high thermodynamic efficiency will allow spacecraft to reach previously unattainable performance
. It would also result in additional workload for rockets and the
reduction of cost for orbital deliveries
. "We took up the challenge - to prove the possibility to create a detonation in oxygen-kerosene rocket engines. And now we can firmly say that this is possible, and we know how to do it," Igor Denisov, the FPI's deputy director, said in comments on the successful tests.
Russia is a leader in developing PDRE technology, and the current project was launched back in 2014 under the auspices of Energomash, one of Russia's key companies in space research. "
The experimental studies have clearly confirmed the theoretical possibility of creating a national PDRE

for a new generation of missile technology
," said Boris Satovsky, the chief of the project. "Many leading countries are involved in the development of detonation engines, but no one has so far yielded any serious results," he added.
The initial idea for the principles of the PDRE was thought up by Soviet scientists in the middle of the last century. Apart from Russia, the
US is also involved in developing the technologies of pulse-detonation engines (PDE). Back in January 2008, it reportedly became the first to have tested a pulse-detonation engine, though powering a plane and not a rocket.
The project was run through the US Air Force Research Laboratory, and the aircraft was then moved to the National Museum of the United States Air Force.