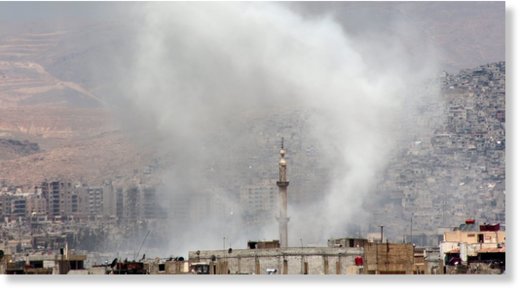 Syrian government forces are unlikely to be behind the 2013 Ghouta chemical attack, Francois Delattre, a French Army general and an analyst with the Institute of International and Strategic Relations (IRIS), told Sputnik on Wednesday.
Debates over the Ghouta attack incident resurfaced earlier in the day after Syria's Permanent Representative to the United Nations Bashar Jaafari said in an interview that the attack was organized by French intelligence in an effort to divert UN inspectors' attention from another incident caused by the opposition.
"I would prefer not to think that French special forces were involved in the chemical weapons operation, and even about them stating that [Syrian President] Bashar Assad used them in Ghouta.
According to the information available, the weapons were inspected by UN experts and it was found that they were deployed in areas which Assad's forces could not have accessed by definition," Delattre said.
The international community has struggled to establish the side responsible for the attack, with the UN Security Council's Joint Investigative Mechanism (JIM), set up in 2015, due to publish its findings by the end of August. Despite the lack of conclusive evidence, a number of governments, including France, the United Kingdom and the United States, were quick to blame the Syrian government for the incident.
However, the French government's reaction was not based on expert assessments, instead following media reports of the attack, which were biased and published by organizations lacking ethical credibility, Delattre stressed.
"Furthermore, photographs and pictures provided by those who said that it was Bashar Assad who launched the missiles indicate that they were not launched by the military in the full sense of the word. I always had many doubts about the origin of the Ghouta attacks, including its technical aspects, as I have personally dealt with missiles and I know how they work," he said.
In August 2013, an unprecedented chemical weapons attack which killed more than 1,300 civilians took place in Ghouta, a suburb of the Syrian capital Damascus. Militants and Assad's government blamed each other for the attack.
A mission to eliminate Syria's chemical arsenal was announced after the deadly gas attack. Moscow urged Damascus to place its chemical weapons under international control, and Syria agreed to the Russian initiative.