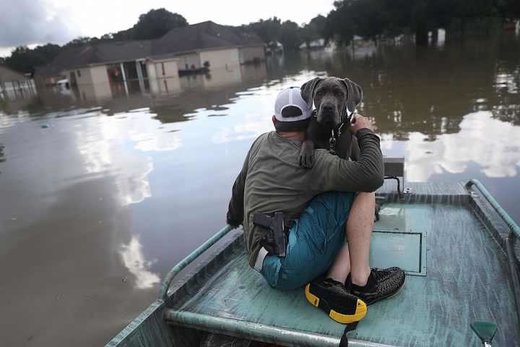 The United States has already seen some of the most extreme weather disasters this year, and 2016 is only half over.
Just this week, the
Blue Cut wildfire raged in Southern California
, destroying dozens of houses and forcing over 80,000 residents to evacuate.
Also recently, at least
11 people
were reported to have died from the catastrophic flooding in south Louisiana. About 30,000 people have been rescued since Friday, when heavy rains started to submerge communities. The flood, which is said to be one of the worst in Louisiana history, had damaged at least 40,000 homes.
The National Oceanic and Atmospheric Administration (NOAA) recently released a report saying that as of July 2016, weather disasters have already caused
$8-billion worth of losses across the U.S
. NOAA has listed eight weather and climate disasters (2 flooding events and 6 severe storm events), with losses exceeding $1 billion each, including deaths and significant economic impact among affected areas. These weather events are all notable effects of climate change.
The Blue Cut wildfire and the Louisiana flooding are only two of the most catastrophic weather disasters that plagued the country. Here are the other deadly climate catastrophes that hit the U.S. so far in 2016.
1.
Floods
West Virginia had experienced deadly floods in June, killing at least
26 people
and destroying over 1,200 homes. Heavy rains and rising water submerged towns, swamping a resort and trapped 500 people in a building.
Heavy rains in Texas
have also caused rivers to overflow, damaging about 1,400 homes in Fort Bend County near Houston, Texas. Death toll has risen to 15, which includes 9 soldiers who had died when flood waters submerged a training exercise at Fort Hood, Texas.
2.
Wildfires
California has been facing major wildfires this 2016 due to drought and intense summer heat. According to
the California Department of Forestry and Fire Protection
(CalFire), twice as many acres had burned in the state in 2016 compared to the same period the previous year. Catastrophic wildfires include the Central Coast's Soberanes Fire, the Erskine Fire in Kern County, and the Sand Fire in Los Angeles County.
3.
Heat Waves
A scorching heat had plagued Arizona and
killed four hikers
on trails across the state in June. In late July, a
90-degree heat wave
had spread throughout the northeast, affecting the New York tri-state area, Boston, Philadelphia and Washington D.C. among others.
4.
Winter Storm
Winter Storm Jonas was
one of the biggest snowstorms
on record. In January, snowstorm had
covered a huge portion of the northeast
, including Washington D.C. and New York City, with over two feet of snow. It also affected some parts of the south and Ohio Valley, including the Plains.
The blizzard buried over 430,000 square miles and
killed at least 50 people
.