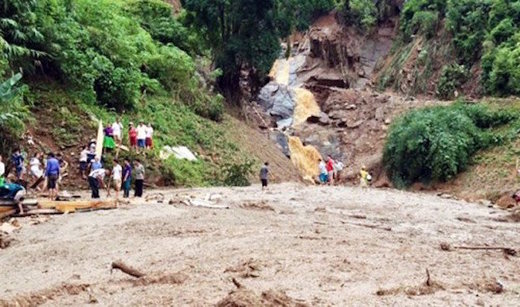 Seven people have been killed, two are missing, and eight have been wounded by the impact of tropical storm Dianmu in northern Vietnam over the weekend. The Department of Natural Disaster Prevention and Control has sent a brief report to leaders of northern provinces, confirming the number of casualties in the aftermath of the typhoon.
The storm made landfall on Friday afternoon in Hai Phong City and Thai Binh Province with winds near the eye of the storm reaching 60 - 90kph, according to the National Center for Hydro-Meteorological Forecasting. Dianmu began weakening by 7:00 pm on the same day and eventually dissipated en route to the northern mountains, with anticipated heavy rainfall, flash floods, and landslides.
The two missing victims were swept away by flood water while the injured were caught under fallen trees, muds, and collapsed homes, The Department of Natural Disaster Prevention and Control said.
A total of 44 houses were knocked down entirely or washed away, while the roofs of 651 residences were damaged by strong winds, it continued, adding that 1,511 houses had been submerged in flood and 2,154 households had been evacuated.
The tropical storm also ravaged 8,843 hectares of paddy field and 1,189 hectares of other crops, while uprooting 252 trees planted across the region. About 14 small bridges were destroyed and many sections of national and provincial highways were damaged in the provinces, creating problems for local traffic.Several electric lines were also impacted and about 63 utility posts broken, according to the report.