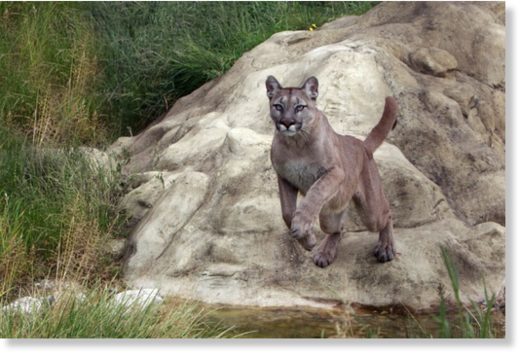 A Vancouver-area man used a rock to battle a cougar after the wild cat attacked him on a remote logging road on Vancouver Island.
The attack has prompted B.C.'s Conservation Officer Service to remind residents to report wild cat encounters to the province's 24-hour hotline to help them keep track of cougars as they enter populated areas.
The man, who was not named, was treated for bite and claw wounds and released from hospital in Port Hardy.
He was staying with friends in a cabin in a remote area when the attack occurred on the B.C. Day long weekend, said Acting Insp. Ben York of the Conservation Officer Service.
"He was just out for a jog in the morning along the logging road and encountered
a cougar that followed him for a short period of time and then attacked him,"
York said.
"It was a smaller animal, around 100 pounds, and he's a big guy, and he was able to fight it off with his hands and a rock he picked up."
The man didn't report the attack to conservation services for at least a day. By the time officers and a tracking dog arrived, it had rained and the cougar's scent was gone, he said.
York said it appeared the cougar was a younger animal.
The conservation office's 24-hour cougar hotline, 1-877-952-7277, allows officers to monitor and track cougar activities. There are an estimated 800 cougars on the Island.
A call to the hotline does not immediately mean conservation service officers will descend on the area with the intent to shoot the animal, York said.
"It really does depend on behaviour," he said. "We're not going to take out every cat that shows up and that's seen by a human being."
Last October, a full-grown cougar that ran through Victoria's James Bay neighbourhood near the B.C. legislature was tranquilized and tagged after a chase.
A tagged cougar was recently spotted in the Sooke area, but it's too early to determine if it was the same animal, York said.
Source: The Canadian Press