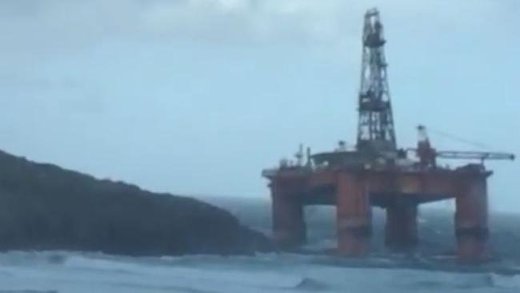 A 17,000 tonne oil rig has been swept ashore after being hit by severe weather and heavy winds in the Western Isles in Scotland.
Police rushed to cordon off the popular surf beach in Dalmore after fumes could be smelt coming from The Transocean Winner rig, reports The
Mirror
.
There is a risk that the structure, which is carrying 280 metric tonnes of diesel, could be damaged and leak its cargo into the sea.

The drilling rig became detached from the Alp Forward tug boat during severe weather conditions overnight.
HM Coastguard said: "The Maritime & Coastguard Agency's counter pollution branch and the SOSREP have both been monitoring the situation since yesterday evening and the local authority, police and Marine Scotland have all been kept informed."
According to former crew members the Transocean Winner carried out its last project at the end of July and was on its way to Malta to be broken into scrap, reports The
Mirror
.
The Stornoway Coastguard said there were no personnel on board the rig when it become disconnected from the Alp Forward tug boat.