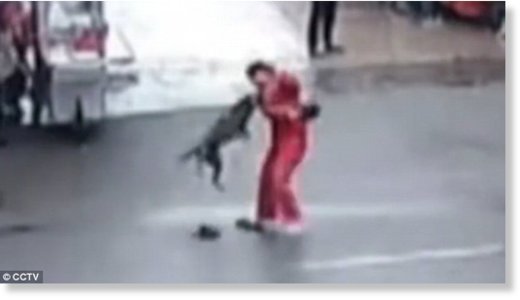 This is the shocking moment a crazed dog savages more than 20 people on the streets of China before it is shot dead by police.
The video was captured on CCTV and shows the aggressive animal stalking a man in Guizhou Province before lunging at him and biting him in the leg.
The dog sinks its teeth into the man, who turns around in shock and attempts to bat it away with his hand and then his hat.
But the canine reacts too quickly and after dodging his efforts, jumps into the air and grabs hold of the man's arm - biting down hard.
The man swings around in pain while trying to get the dog off before eventually hitting it on the head with his hat.
The animal then runs away in search of another victim before cornering a woman - who cowers in anticipation of being bitten - and launching an attack.
The sheer power in which the dog jumps at the woman sends her falling backwards into a car as she tries to hit it with her bag to stop it from biting her.
She manages to get the animal interested in her jacket, which it savages, before it loses interest and runs away.
The clip concludes with police on the scene following calls from terrified citizens.
The dog, which managed to bite more than 20 people, was eventually cornered by officers who were forced to shoot it dead.
According to CCTV News, the animal rampaged through the streets for more than two hours. Its youngest victim was an eight-year-old while its oldest was aged 75.