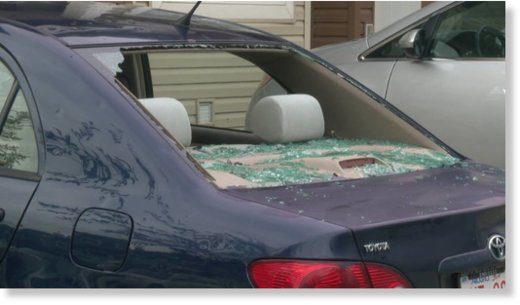 Saturday evening's storm caused extensive damage throughout northeast Calgary, the neighbourhoods of Taradale and Coral Springs were especially hit hard.
Residents said the hail started pounding on their homes at around 5:45 p.m.
"It sounded like if you are in a small room with a closed door and like 10 or 15 people hit around the room," Abul Kashem, who was taking pictures of the damaged siding on this home on Taravista Drive, said.
People living on Tarawood Road watched, as the golf ball sized hail crashed down on their homes and cars.
"Everybody was excited and scared at the same time. I saw some people getting out of their house and trying to cover their cars to try to avoid the damage," Gaurav Singh said. His car's windshield was cracked by the hail.
"The hail was pretty big. Almost half of my fist. Many of them were half of my fist size," Singh said.
Mohammed Chowdhury's 12-year-old daughter was injured when the hail burst through a sky light in his home and flooded parts of his house on Taravista Drive.
"One of the glass splinters hit her forehead. We gave her primary treatment and then she was OK," Chowdhury said. "I can't forget what has happened. That was a disaster for me last night."
"For the last seven years, I didn't see anything like that. I was scared... The ball sized hail, if it hit my head I could die," Chowdhury said.
"I called the emergency services and the fire truck came and they helped me from the safety point and finally, at ten o'clock, the insurance company sent a restoration guy and the restoration guy came and covered up the whole skylight and we are safe now," Chowdhury said. "We had to work five hours to clean up the mess inside the house."
Vehicles everywhere in Taradale were covered in dents and many windshields damaged Sunday.
Mehwish Hanif said the storm was so loud that she didn't even hear the sound of the glass shattering outside, as she watched the hail come down from inside her home.
"I was backing up and I turned around and saw that my windshield was completely gone. I was totally surprised. I saw some dents when I was coming to my car but I didn't even notice that my windshield was totally gone before I got into my car. It was crazy," Hanif said.
Windshield blown out by hail in North East Calgary @GlobalCalgary pic.twitter.com/aumnKRcOQI

— Carolyn (@castillokury) July 31, 2016
Some were unfortunate enough to have been caught outside, feeling the full force of the storm.
Gaurav Singh says his mother was outside for only moments when she was hit by a hail stone.

"She was doing something outside and she got hit by hail and she said it still hurts," Singh said. "It was that big and even small hail would damage you but the big hail was like big rocks."
People living in northeast Calgary came out to talk with neighbours about the storm and take pictures of the damage done to homes and vehicles Sunday morning
"I have never seen something like this before ever in my life. Never ever," Singh, who has lived in Alberta for five years, said. "
First it was small hail and then it was like somebody was hitting our house with rocks and pebbles."
Taradale hail damage. @GlobalCalgary pic.twitter.com/0W082u5WwO

— Carolyn (@castillokury) July 31, 2016