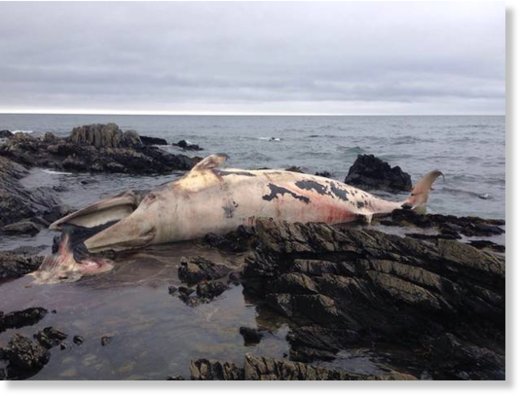 The carcass of 26ft-long minke whale has washed ashore on rocks at St John's Point in County Down.
The body of the huge creature, which is believed to have been dead for around a week, was discovered by a member of the public on the foreshore near Killough.
A team from Newcastle Coastguard Station was sent to the scene to measure and photograph the body.
Speaking to the
Belfast Telegraph
last night, Ian Enlander, from the Irish Whale and Dolphin Group, said: "In the summer, minke whales move south from the west of Scotland into the Irish sea, where there is plenty of food for them.
"They're often sighted off Islandmagee as they migrate toward the Isle of Man.
"It appears that this young male minke died after its tail became entangled in some discarded fishing gear."
"From the pictures, I would say that it has been dead for no more than a week. It just goes to show that the Irish sea is not a totally safe environment for them.
"They can easily get entangled in fishing gear - and that means certain death."
The expert said that the last large whale incident in Northern Ireland came last autumn, when a fin whale beached on the north coast.
It is understood that a report on the latest incident has been forwarded to the Receiver of Wreck, who has responsibility for dealing with whales that wash up on the shores of the UK.
The Northern Ireland Environment Agency has also been informed of the appearance of the decomposing animal on the shore, as has Newry, Mourne and Down Council.
Minke whales are often seen in the waters of the Irish Sea during the summer months.
Whale-watching cruises also form a popular holiday activity off the coast of the Isle of Mull in Scotland.
Minke whales are not considered to be an at-risk species. The International Union for the Conservation of Nature's Red List has identified the common minke whale as being a species of least concern.
It is likely that the body of the huge sea mammal will ultimately have to be cleared away from the shoreline by the local council, as the rotting carcass will become a public health hazard as it decomposes.
The Marine and Coastguard Agency confirmed last night that the Receiver of Wreck had been informed and was working with Newry, Mourne and Down District Council.
The agency advised members of the public to keep at a safe distance from the whale's body, for their own safety.