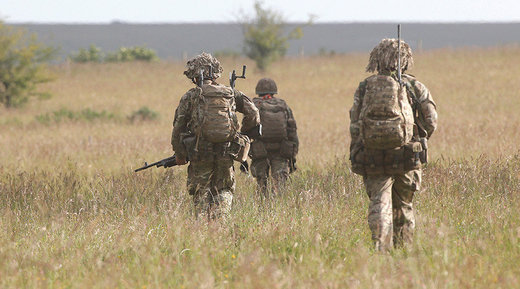 British instructors will complete the training of 4,000 Ukrainian military personnel by March 2017, UK Secretary of State for Foreign & Commonwealth Affairs Philip Hammond told journalists on the sidelines of the NATO summit in Warsaw.
"We have a very active cooperation with Ukraine. The UK will train 4,000 Ukrainian servicemen until March 2017," Hammond said.
The minister also expressed his hope to deepen cooperation between Ukraine and NATO, adding that the UK plans to make a significant contribution to this cooperation, particularly in the field of training Ukraine's servicemen.
He also emphasized that the process of Montenegro's accession to NATO shows that the alliance's door is potentially open to all countries, including Ukraine.
In March, British Secretary of State for Defense Michael Fallon said in a statement that the UK instructors and advisers already trained 2,000 Ukrainian soldiers, adding that there are plans to train 300 more in 2016.
"This underlines the commitment of the UK to the issue of sovereignty, independence and territorial integrity of Ukraine and our other Eastern European partners. This is another clear sign that we strongly support Ukraine in times of aggression," he said at that time, as quoted by the Ukrainian news agency Ukrinform.
Since March 2015 about a hundred British military instructors have started working in 10 Ukrainian training centers.
Hammond's latest statement comes as the bloc plans to deploy four multinational battalions in the Baltic States and Poland, supplemented by around 1,200 combat vehicles, including 30 aircraft, particularly to counter Russia's perceived growing 'assertiveness.'
NATO Secretary General Jens Stoltenberg confirmed on Friday that the leaders of NATO member states approved the decision to deploy four multinational battalions in eastern Europe.
At the same time, US President Barack Obama said at the Warsaw summit that
"Russia's aggression against Ukraine threatens our vision of a Europe that is whole, free and at peace."
The build-up also involves a drastic increase in scale and pace of the exercises taking place all across eastern Europe on land and at sea.
Meanwhile, not everyone in the Alliance agrees with the US rhetoric."NATO has no role at all to be saying what Europe's relations with Russia should be," French President Francois Hollande said at the summit, adding that "for France, Russia is not an adversary, not a threat."
The Russian military said it was forced to respond to the emerging security challenge posed by the NATO buildup with adequate defensive measures, including the creation of new army divisions and the strengthening of the Navy's Baltic and Black Sea Fleets.