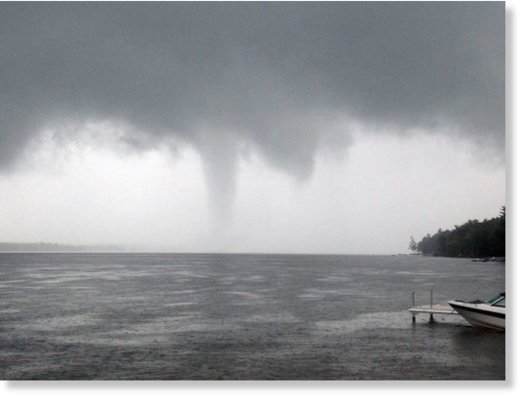 @JHarringtonTV Water Spout/Tornado Upper Buckhorn Lake, Ontario pic.twitter.com/1SZSBrQfrU

— Jordan Trudell (@Air21turtle) July 1, 2016
When a funnel cloud touched down in Upper Buckhorn Lake Friday afternoon, Jorg Klein was quick on the draw.
He immediately grabbed his phone and recorded the waterspout as it passed by The Birches Resort in Buckhorn.
Jorg Klein posted this video to Facebook of the Buckhorn Lake waterspout as seen from The Birches resort:
It happened around 3:45 p.m., about 300 metres away from the resort.
"It came down, swirled around a bit, wasn't too intense - it was quite awesome to look at, actually," said Klein.
The waterspout continued down the middle of the lake and dissipated as it got into Buckhorn Narrows.
Klein's recording lasts about a minute, capturing all but the first few seconds of the cloud's contact with the water.
The Lakehurst resident said his initial reaction was relief that no one was on the water.
And although it frightened his daughter, its size and the fact it wasn't coming their way didn't alarm Klein.
"It wasn't a drastic tornado, so I knew we were kind of safe," he said.
With heavy rainfall and wind in the trees behind him, Klein said he didn't hear anything else.
Over the years, he said he's seen down spikes and heavy winds but nothing like what he saw Friday.
"It's cool - it was interesting."
Though he's pretty sure the waterspout disappeared as quickly as it came, Klein's hopeful no one was hurt and that others got to witness the natural phenomenon.
Since sharing his video to Facebook three hours after capturing it, it's already had thousands of views and hundreds of shares.
Being in "awe" of the waterspout himself, Klein said he's not surprised the video is getting so much attention and he's happy to share his experience.
"Something like that should be shared, not kept."
William Lucas posted this video of the Buckhorn Lake waterspout on Twitter:
Tornado / WaterSpout Upper Buckhorn @CP24

pic.twitter.com/ZdV5B1erug

— William Lucas (@MrWilliamLucas) July 1, 2016
Environment Canada issued a weather advisory at 4:08 p.m. Friday warning that conditions could lead to the development of funnel clouds in Peterborough and the Kawarthas, but it was later called off at around 6:09 p.m.
The advisory followed an earlier severe thunderstorm warning for Lindsay and southern City of Kawartha Lakes issued at 2:47 p.m. Friday by Environment Canada that was ended at 3:41 p.m. Friday.
Environment Canada is investigating unconfirmed reports that a tornado possibly touched down near Manilla, west of Lindsay in the City of Kawartha Lakes.