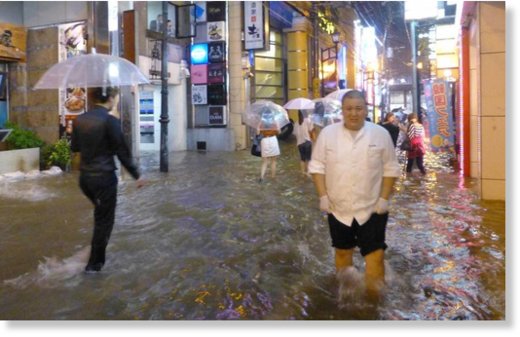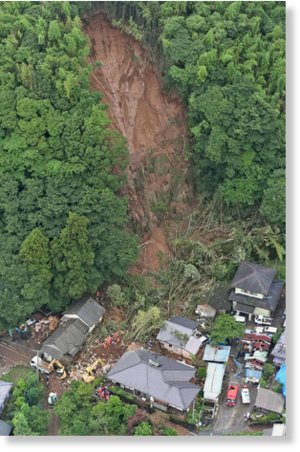 Floods and landslides triggered by torrential rain have left at least 2 people dead and several missing in Kumamoto Prefecture, southern Japan.
One man died in a landslides in Kamiamakusa on Monday 20 June. The second victim drowned in flood water in Kosa. Some local news reports say that the number of fatalities has since increased to at least five. As of early 21 June, two people were missing after a landslides buried their home in Kumamoto. A third missing person is thought to have been buried in a landslides in Uto.
Evacuation orders have been issued by disaster management authorities for several areas in Kumamoto.
The area was recently battered by major earthquakes that struck in April this year, killing at least 49 people and injuring about 3,000.
Over 180 mm of rain in 2 hours
According to Japan Meteorological Agency (JMA) figures, Kosa in Kumamoto Prefecture has recorded around 250 mm of rain in the last 24 hours, to 17:00 on 21 June. Most of the rain, 181 mm, feel during a short period from late on Monday (between 23:00 on 20 June and 01:00 on 21 June).
Uto, Kumamoto Prefecture, recorded 170.05 mm in just 2 hours late on Monday 20 June.
Rain and landslide warnings
JMA have warned of further rain. Red level (mid-level) warnings for heavy rain have been issued for areas of Miyazaki, Kagoshima and Kumamoto prefectures. The rain could further destabilize soil and cause landslides after the April earthquake. Japan Meteorological Agency have issued a map of areas at risk of landslide as a result of the heavy rain (below).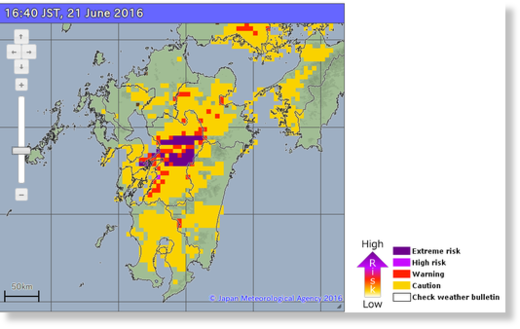 Other rainfall figures
Below are rainfall figures from WMO, for a 24 hour period to 21 June 2016.
Miyazaki - 168.0 mm
Shionomisaki - 79 mm
Matsuyama - 84.0 mm
Kochi - 68.0 mm
Nagasaki - 96.5 mm
Izuhara - 73 mm
Hiroshima - 102.5 mm