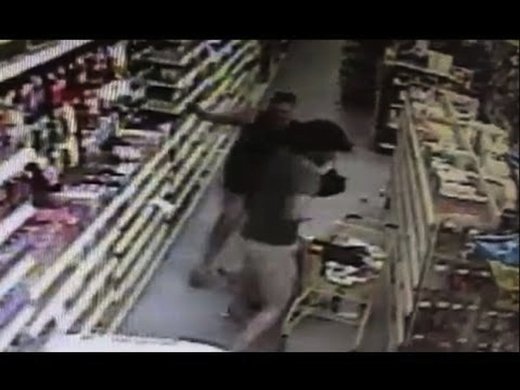 A Florida man was arrested on charges of kidnapping and child abuse after store surveillance video showed him dragging a 13-year-old girl away from a desperate mother.
Surveillance video shows the suspect, who police say is 30-year-old Craig Bonello, calmly pushing a shopping cart inside a Dollar General in Hernando, Florida Tuesday before abandoning the cart and walking toward the woman.
A few seconds later the man can be seen toward the edge of the screen lunging for the girl, then dragging her toward the camera and through the store, as the mother gives chase. Near the front of the store, he can be seen struggling as the woman tries to pull her child away.
"He was getting his butt kicked by mom," Citrus County Sheriff Jeffrey Dawsy said at a press conference Wednesday.
Finally the man lets go and takes off running. Outside the store, the mother and the store manager flagged down off-duty Deputy John Behnen.
Investigators believe the attack was random, but premeditated.
"You can tell he searched out his victims, he searched and he went after that child with terrible terrible motives," Dawsy said.
Behnen also spoke at Wednesday's press conference.
"When I first saw him run out of the building, I have to be honest, I just thought it was shoplifting," Behnen said.
But then he noticed the girl's mother and the store manager who alerted him to the alleged attempted kidnapping.
Behnen said he followed the suspect, who had gotten into a car, and cornered him.
"I banged on the glass with my gun to try and break (it)," Behnen said.
Ultimately, Behnen managed to open the car door, and get Bonello to the ground, he said.
"He fought a little bit, but when he realized I had the upper edge, he complied with everything thereafter," Behnen said.
Bonello made his first court appearance Wednesday. The child and her mother were not injured during the incident, authorities said. They told investigators that they have never met the suspect before, according to an affidavit obtained by CBS News.
Bonello allegedly admitted to investigators that he did not know the victims, according to the affidavit.
"The defendant would not advise what he planned on doing after he would have taken the victim," a detective wrote in the affidavit.
At the press conference on Wednesday, Dawsy encouraged parents to fight back if they find themselves in a similar situation the mother faced Tuesday.
"In that particular situation you don't back away," Dawsy said. "If your child is being snatched, you are going to do anything."