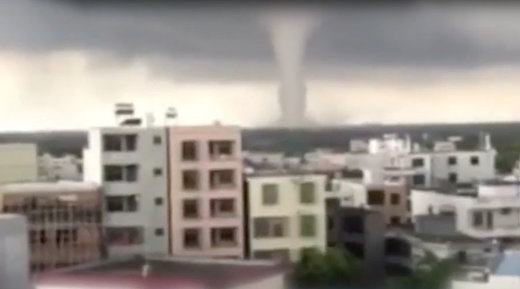 One person has been left dead by a tornado that swept through China's Hainan Province on Sunday. Dramatic footage of the devastating tornado was caught on camera.
The tornado tore the roofs off of houses in areas of Wenchang City according to
CCTV News
, with nine people so far reported injured. Video of the tornado shows the giant funnel touching down on the city, leaving devastation behind.
Rescue work is currently under way in the city with the area in an orange weather alert for Sunday, with more severe weather forecast.
Tornados are not common in Hainan Province, with some locals who were at a safe distance posing for a "tornado selfie" with the deadly weather phenomenon.
Tornado selfies have become popular in US states where tornadoes are common, with people posing at what they believe to be a safe distance from the tornado.