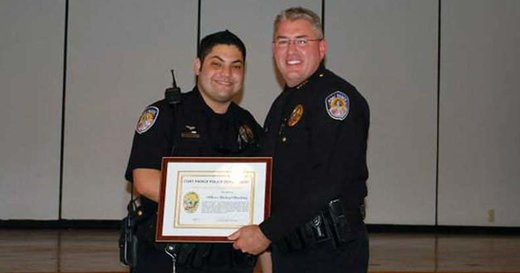 Disturbingly, an officer given the label of 'Officer of the Year' in 2011 was convicted of
multiple crimes involving sexual exploitation of minors
. Michael Edwin Harding, pictured above, worked in Fort Pierce, FL as well as Port St Lucie before accruing enough disdain from fellow officers and the prosecutor's office to be charged and convicted of criminal behavior.
In a move that is highly unusual for police officers accused of horrible crimes, he was sentenced to life in prison. His crimes were abominable: possession, distribution & production of child pornography, coercing a minor to engage in sexual activity - some of this while he was on midnight shifts in his patrol car.
Court documents show Officer Harding spent time using an app called Kik messenger and frequented a chat room labeled #toddlerfuck.
When his home was raided, they found a thumb drive which contained such titles as "7yo girl fingered deep in both holes" and "6yo suck" both of which contained graphic sexual abuse of children by adults. That same thumb drive also contained pictures of Harding in his uniform, according to
the criminal complaint
.
Thankfully, he was arrested in September of 2015 and was sentenced last Monday to life in prison.
However, it is pretty unusual for cops to get such appropriate sentences for their crimes.
I wonder, did Officer Harding know too much? Were there other officers involved? There must be a reason for him to be sentenced to life, one can't help but wonder what it was.
Especially when other officers receive a much lighter treatment for similar crimes.
Officer Jerad Gale was also given the honor of being called 'Officer of the Year' in 2007 just before he was arrested for strangling and raping three women.
Gale pleaded guilty on all counts, and was sentenced to 8 years on probation and 1 year in jail. Considering we're talking about a serial rapist, one wonders what will happen when he's out on probation?
There are literally thousands of stories involving sex crimes and cops
, and that number is guaranteed to be an under-count:
In a yearlong investigation of sexual misconduct by U.S. law enforcement, The Associated Press uncovered about 1,000 officers who lost their badges in a six-year period for rape, sodomy and other sexual assault; sex crimes that included possession of child pornography; or sexual misconduct such as propositioning citizens or having consensual but prohibited on-duty intercourse.

The number is unquestionably an undercount because it represents only those officers whose licenses to work in law enforcement were revoked, and not all states take such action. California and New York - with several of the nation's largest law enforcement agencies - offered no records because they have no statewide system to decertify officers for misconduct.
Killing your pets with a smile while protecting and serving death to you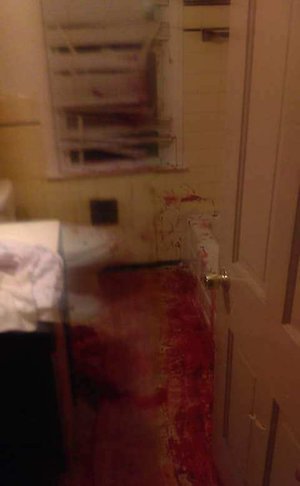 Two horrific stories of animal abuse also emerged this week, where police brutally assaulted and killed one woman's dogs while the pets of another family were callously injured and left for dead.
In Detroit, MI, three officers were named in a lawsuit after they slaughtered three dogs while executing a search warrant. After they killed her dogs, the lawsuit claims the officers told the woman, "I should have killed you too."
Officers Gaines, Morrison and Paul came to the home of
Nikita Smith
to search for marijuana. Realizing her home was about to be searched, Nikita secured her animals, two in the basement and one in a bathroom behind a locked door. Unfortunately, it proved a futile attempt to save their lives. Smith's lawyer, Chris Olson, told the Daily News that:
"They went around and killed them. Like a death squad."
One of the animals was able to get out of the basement and sat next to Smith. As she went to grab the dog, officers unloaded multiple rounds into the animal, killing it on the spot. Afterward, they went into the basement and killed the other dog that was still there. Her name was Mama, and she was pregnant at the time she was murdered. Deciding that they should finish the job, officers unloaded their weapons again at the last dog who was in a bathroom behind a locked door, riddling the bathroom with bullets and gore as the poor animal struggled before it ultimately passed.
Officer Gaines apparently enjoyed the slaughter, laughing and quoted saying:
"Did you see that? I got that one good!"
according to the lawsuit.
In Mesa, AZ officers shot and injured dogs that were secured in a fenced in backyard of a family, but neglected to contact them or even leave them a note to explain what had happened
. Stephani Martin explains that her mother returned home to find both their dogs injured in their backyard. Thankfully, Piggy - a pit bull, wasn't seriously injured but they had to rush Roxy, a boxer mix, to the animal hospital for emergency surgery.
Later, as the family investigated they asked some of their neighbors if they saw anything and some of them reported seeing police enter their backyard several hours before the family found their animals injured. Police were searching for a suicidal teen armed with a weapon who was found about an hour after the dogs were shot, but officers never notified the family or attempted to get any sort of medical care for the animals they injured.
Of course there was no explanation as to why the police entered their backyard and shot their dogs in the first place, nor why they had left them for dead after the fact. According to the police, a patrol sergeant was tasked with notifying the family, but never followed through. Whoops?
This is just the latest example.
This story covers
the home invasion of Evelyn Lugo, a 57 year-old mother from Staten Island, New York whose home was invaded by officers
without a warrant
. They assaulted her, her children, and after knocking over a bird cage - stomped on it, crushing the animal. All of this over a cone placed in front of the family residence to reserve street parking.
Her son suffered head injuries from being repeatedly assaulted with a baton and her daughter had a near-fatal asthma attack after being pepper-sprayed.
They then had the gall to charge the family with crimes, which were eventually dropped.
If you google the phrase, "cops kill dog" with quotes, you get over 2,500 hits. Without quotes, it's almost 3 million. The sheer number of these stories I see each week is severely disturbing. The callous lack of any regard for people's pets is mirrored by how they treat innocent civilians - with sadistic and brutal violence the likes of which would traumatize any normal human being.
The bully in our schools now wears a badge and carries a gun
These stories are becoming more and more common, kid goes to school, kid gets into a disagreement with either a teacher or an officer - officer unleashes physical and chemical violence against a kid because that kid is not 'respecting his authority'.
In St. Paul, MN
this teen screams for help
after he's pepper sprayed in the face and then slammed onto concrete while being arrested for trespassing, even though the student claims he was there to talk with his teacher.
Earlier this year, a student in Baltimore, MD was slapped and kicked by an officer while they were searching for someone who wasn't supposed to be on the premises:
The felony child abuse charge against the officer was dropped
, but the officer still faces second-degree assault and misconduct in office, both of which are misdemeanors.
In Detroit, MI
a 15 year-old girl is dragged, kicked, shoved and pepper-sprayed
by a 'Detroit Public Schools Public Safety Officer'. Her egregious offense? Using the elevator with an expired elevator pass. Security cameras recorded that incident as well.
A 12 year-old girl was body-slammed by an officer as she was being escorted out in handcuffs
. She was in an argument with another girl, and in order to stop them from fighting, the officer decided he was going to start one himself.
These few stories represent only the tip of the iceberg. It's high time we get cops out of schools.
They are not trained to handle children, nor is their behavior suggestive that they can do so with the appropriate amount of tact and restraint interacting with kids requires. In all these videos, we can see that there is no attempt to simply talk the kids down. A verbal warning should be enough to dissuade students from fighting, or reprimand someone for using an expired pass, or showing up on school property when they aren't supposed to be there. However,
as soon as these officers are triggered they go whole-hog into violent submission mode, usin
g physical violence as well as chemical agents to subdue children
!
It's pretty strange that our police forces have devolved into something straight out of a cartoon. Dare I ask, what's next?