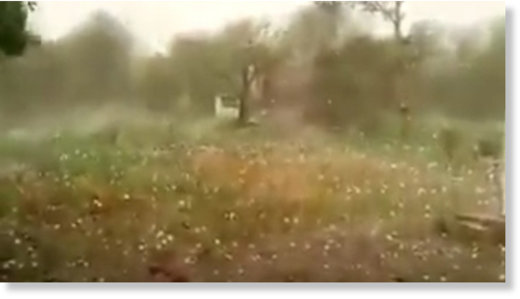 Hailstones the size of tennis balls caused chaos in what is believed to be Myanmar as they crashed into houses and trees, while frightened residents sought shelter from the bad weather in their homes.
The terrifying barrage was captured on video by a panicked resident.
At first, a few hailstones are seen hitting the ground here and there, but as the storm picks up, they get heavier as scared onlookers start to shout in the background.
At one point, the video zooms in to show the severity of the resulting damage. The hailstones are so big that many bounce off the ground, leaving huge holes in the soil. Thudding noises are heard as they smash into homes nearby.
Myanmar was hit hard by violent storms in April, when similar gigantic hailstones tore through the country, killing 8 people and damaging thousands of buildings.
Storm is hitting western myanmar by parkparkzzzzz pic.twitter.com/T7fCway2aF
— Mankool Yangon (@Mankool_Yangon) May 22, 2016
The first storm of the season in Sittwe's IDP camps. #Myanmar#Rohingyapic.twitter.com/Txhxct4AVF

— Wayne Hay (@wayne_hay) May 20, 2016
Officials say at least 1,700 pagodas were damaged by strong winds in the country's southern state of Shan, according to AFP.