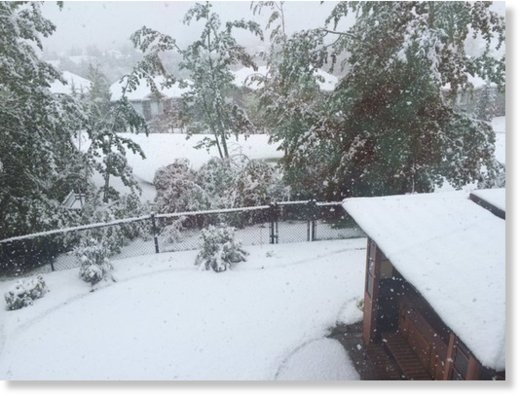 After waking up to snow and recording a daytime high of just 5.5 C on Sunday, it should be of no surprise that we've had
a historically cold weekend in Calgary.
In fact, 2016 is on track to be one of the coldest May long weekends over the past 40 years.

So far the mean temperature for the 2016 May long weekend is under 5 C.
Official numbers will need to come in for Monday, but with a forecast high of just 8 C, the weekend looks like it will end with a 'blah.'
The coldest Victoria Day long weekends since 1976
were back-to-back in the early 2000s. 2003 and 2004 were memorably cold all weekend, with temperatures ranging from -5.1 to 14.2 C in 2003 and -0.8 to 13.8 C in 2004. Their respective mean temperatures averaged over the four days came out to 4.2 C in 2003 and 5.4 C in 2004.
Rain or snow is something most people seem to expect on this holiday weekend, and that makes sense.
Looking through Environment Canada records over the past four decades, there have only been four 'dry' May long weekends in Calgary; 2008, 2000, 1980 and 1978.
If you factor in trace amounts of moisture, there has been rain or snow 86 of 160 days for those specific weekends. (trace amounts of precipitation, considered to be any measurable amount below 0.2 millimetres of water equivalent moisture)
The greatest single-day rainfall recorded over this weekend was last year, when 19.1 mm of rain fell on May 16. Sunday came in as the third rainiest single-day for the long weekend, after 17.2 mm of rain was recorded at the airport.
The greatest single-day snowfall for this weekend was May 21, 1995 when Calgary was hit by nine centimetres of snow.
You might be surprised to learn that not all May long weekends have been lousy, though.
Calgary has recorded at least 20 C every day of this annual long weekend, 15 per cent of the years. The warmest Victoria Day temperature was on May 16, 2008 when it hit 29.8 C.
The coldest daytime high was May 16, 1981 when it only warmed up to 5.2 C, just 0.3 degrees shy of our high on Sunday.