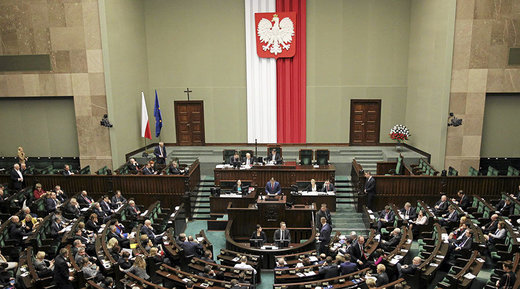 Poland's rightwing Prime Minister Beata Szydlo vowed Friday that her government would never bow to any EU ultimatum and accused some members of the European Commission of trying to 'destroy' the 28-member bloc.
Szydlo was responding to a Monday deadline set by the Commission for Poland to reverse a controversial overhaul of the country's top court that has set off a fiery dispute between Warsaw and Brussels.
'Poland will never succumb to any ultimatum,' Szydlo said during a stormy debate in parliament.
'There are some in the European Commission... who want to destroy the European Union rather than see it develop.'
The EU's executive arm warned earlier this week it could take further action against Poland because of concerns over the commitment of the governing Law and Justice (PiS) to the rule of law.
'If there is no significant progress by May 23, then the First Vice-President (Frans Timmermans) has been empowered to adopt the draft rule of law opinion,' the commission said in a statement on Wednesday.
The exact contents of the opinion are not known, but if Warsaw fails to address the issues raised, it could eventually face a suspension of voting rights in the European council of ministers, the EU's most important decision-making body.
However, Poland's regional ally Hungary is likely to torpedo any possible sanctions, which would require the unanimous approval of all 28 EU members.
Poland's Foreign Minister Witold Waszczykowski revealed Friday in Brussels that Timmermans had agreed to 'give Poland time' to implement 'significant measures' proposed by Szydlo during a Tuesday telephone call.
Poland's broadsheet Rzeczpospolita daily reported Szydlo had vowed Poland would roll back controversial legislation that has paralysed the constitutional court.
'Burning bridges'
In Friday's parliamentary debate, leaders of Poland's liberal opposition party the Civic Platform blasted Szydlo for 'desecrating the constitution' and 'burning more bridges with Europe'.
An MP from the conservative Polish Peasants' Party went so far as to charge that the actions of her administration risked 'civil war'.
Szydlo's government plunged Poland into political crisis in December when it pushed through legislation to revamp the constitutional court and modify its decision-making rules.
The European Commission in January launched an unprecedented probe to see if the changes -- seen by critics as endangering the court's independence -- violated EU democracy rules and merited punitive measures.
Since taking office in November, the PiS government has pushed through several pieces of controversial legislation, including strengthening state control over public broadcasters and seeking to tighten already limited access to abortions.
Poland's rejection of refugees under an EU-wide plan to tackle Europe's worst migrant crisis since World War II has also chilled ties with Brussels.
Just five weeks ahead of the crucial Brexit referendum on whether Britain will choose independence or stay in the EU, Szydlo's PiS party on Friday tabled a resolution in parliament 'in response to attacks on Polish sovereignty.'
The resolution blasts 'attempts to impose decisions on Poland about migrants arriving in Europe...
'These decisions have no basis in European law, they violate the sovereignty of our state as well as European values.'
Earlier this month, around a quarter of a million Poles marched to defend their country's place in the European Union and protest against the PiS government.