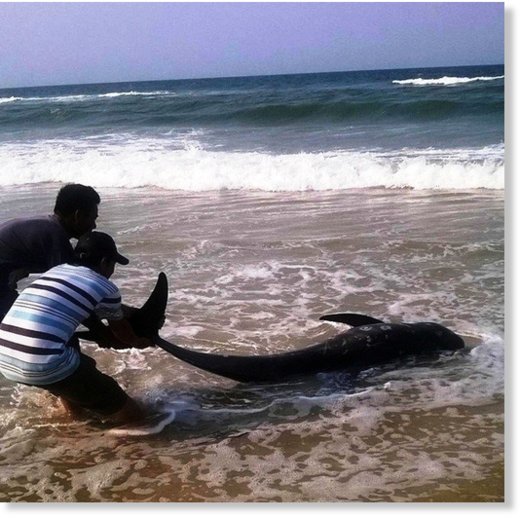 A body of a whale was washed to shore in Thua Thien-Hue Province Saturday night and locals believe it is just another victim of the industrial pollution that has been killing fish in mass in recent days.
Locals said the whale of more than 100 kilograms was first washed to shore when it was still alive but seemed tired.
They thought it was stranded and pushed it out to the sea.
But the body showed up a short time after that.
Locals said they found whale bodies once in a while, but the animals were all big and old.
"This one is only 100 kilograms, so it's very strange," Nguyen Vinh, a local fisher, told news website Zing.
"There have been many fish washed to shore dead on recent days, so we're worried that it might just be another one."

Tons of dead fish have been washed ashore in Thua Thien-Hue and several nearby provinces - Ha Tinh, Quang Binh and Quang Tri - for the past two weeks,
apparently due to industrial pollution.
Between March 16 and April 11, three dead whales of 40, 50 and 80 kilograms were also washed ashore
in Nghe An Province, to the north of Ha Tinh.
The central government on Friday ordered an investigation on suspicions that Taiwanese-invested Hung Nghiep Formosa Ha Tinh Steel Company in Ha Tinh has discharged untreated wastewater into the sea, after a local fisherman reported that he saw a large sewage pipe from the company discharging wastewater into the sea.