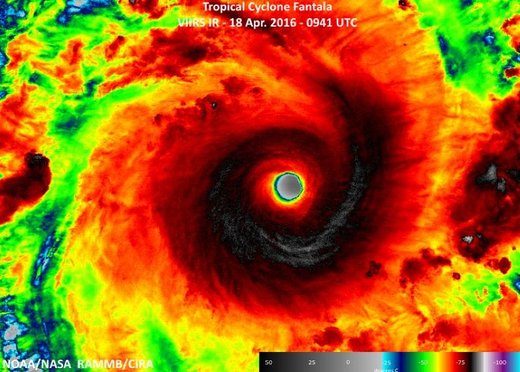 The third record-breaking storm in under a year might owe its ferocity to human activity
Winds of 170 mph can
lift and hurl heavy cars
, even
peel the bark
from trees. So it's a good thing not many people are in the waters north of Madagascar right now, where
Tropical Cyclone Fantala just made history as the strongest-known storm in the Indian Ocean
.
The mighty tempest spun itself up to 150 knots (173 mph)
on Monday, surpassing the 145-knot (167 mph) barrage of
Super Cyclonic Storm Gonu
in 2007. (Reliable records only date to 1990, for what it's worth.) That would make it a Category 5 hurricane on the
Saffir-Simpson wind scale
. It simmered down to about 85 knots on Wednesday, and is expected to
wander southeast
for a couple days before running out of steam.
Fantala is the latest in a series of abnormally menacing cyclones:
Hurricane Patricia
became the strongest-known storm in the Northeast Pacific in October, and February's
Winston
caused devastation in Fiji as the most-potent cyclone on record in the Southwest Pacific.
This progression of monster storms might have something to due with human activity.
"Many parts of the tropics have seen record-warm sea surface temperatures in 2015 and 2016, triggered by a strong El Niño on top of longer-term warming caused by human-produced greenhouse gases," writes meteorologist Bob Henson at
Weather Underground
. "These unusual readings have added fuel to the fire of tropical cyclone production."