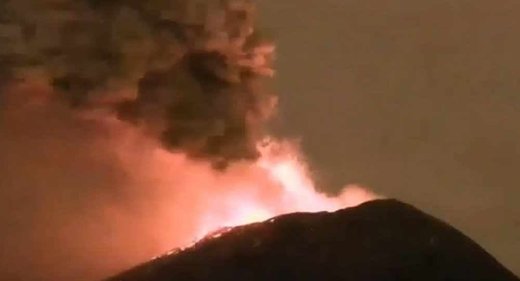 The Popocatépetl volcano in Mexico erupted overnight, sending lava flying as far as a mile away from the mountain.
The Puebla airport, directly east of the volcano, has been closed and officials are urging residents to wear masks and avoid inhaling ash covering the city.
There are approximately 25 million people who live within 62 miles, or 100 kilometers, of the active volcano.
The eruption of the 17,797-foot stratovolcano, the second highest peak in Mexico, began around 2:30AM, sending ash almost two miles into the sky.
Popocatépetl is the most active volcano in the country, with documented eruptions dating back to the arrival of the Spanish in 1519. It has been active since 1991, after being dormant for approximately half a century. Since 1993, smoke has constantly billowed from the crater.
The most recent eruption was April 3,
just 15 days ago
.
The name Popocatépetl is derived from the Nahuatl words popōca 'it smokes' and tepētl meaning 'mountain,' translating to Smoking Mountain. Among locals, it is commonly referred to as El Popo.