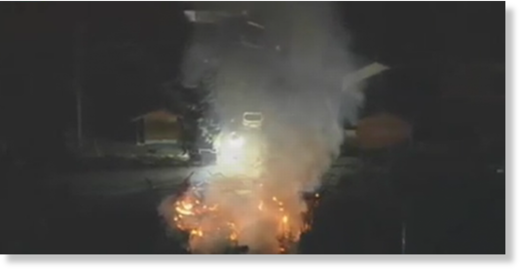 This comes as the nation was coming to terms with the destruction caused by the 6.2 quake which struck earlier today
A second huge earthquake has hit Japan measuring 5.9 in magnitude.
This comes as the nation was coming to terms with the destruction caused by the 6.2 tremor which struck earlier today.
It is unclear how much damage the latest quake has caused but there is reportedly, currently no tsunami warning in place.
Fires were seen breaking out after nineteen homes reportedly collapsed near to the site of the tremor.
Rescue workers are currently battling to free those trapped in the rubble.
After the first tremor, the Nuclear Regulation Authority said there were no irregularities at three nuclear plants on the southernmost island of Kyushu and nearby Shikoku.
Some high-speed trains were halted as a precaution. Japanese media showed watermelons falling from shelves at asupermarket in Kumamoto.
A quake of magnitude 9 struck offshore north of Tokyo in March 2011, causing tsunami waves along the coast which killed nearly 20,000 people and triggered a meltdown at a nuclear powerplant.
The earlier quake struck 11 km (7 miles) east of the city of Kumamoto, the U.S. Geological Survey reported. It initially said the magnitude was 6.2 but revised it down. Japanese public broadcaster NHK said the quake registered 6.4.
There was no tsunami warning, but Japan's chief government spokesman, Yoshihide Suga, said several buildings had collapsed. He gave no more details.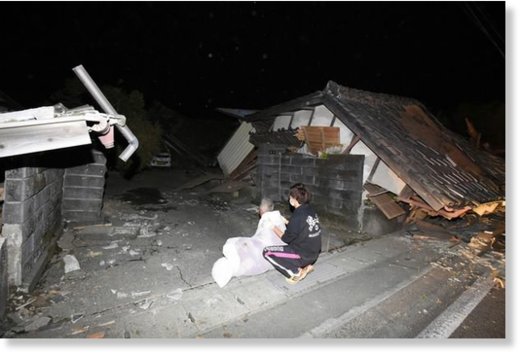 Footage captured some dramatic scenes during the earlier quake with one camera catching officer workers diving for cover as the quake hit.
Watermelons fell from store shelves and lay crushed on the floor of a supermarket in Kumamoto city, near the epicentre, NHK footage showed.
Objects fell from shelves and staff ducked under desks as the quake shook the NHK office in Kumamoto, video showed.