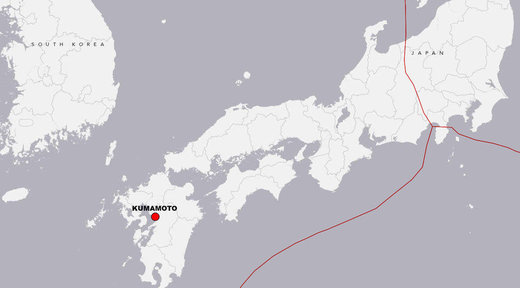 A 6.4 magnitude earthquake has struck east of Kumamoto, Japan, according to the Japan Meteorological Agency. It had a depth of 10 kilometers (6.2 miles).
The quake hit at 9:26 p.m. local time (12:26 GMT), eight kilometers (4.97 miles) from the city of Tamana.
The earthquake left behind damage to buildings, as well as a fire.
Keisukei Urata, an official in Uki, told AP that
he saw walls around houses collapsing.
"Papers, files, flower vases and everything fell on the floor," Kasumi Nakamura, an official in the village of Nishihara, located near the epicenter, told NHK.
He said the rattling started small but then grew violent, lasting about 30 seconds, adding that there were aftershocks.
One aftershock measuring 5.7 struck about 40 minutes after the quake
, according to the Japan Meteorological Agency.
The US Geological Survey (USGS) put the quake at a 6.0 magnitude.
The Japan Meteorological Agency originally issued a tsunami warning, but later canceled it.