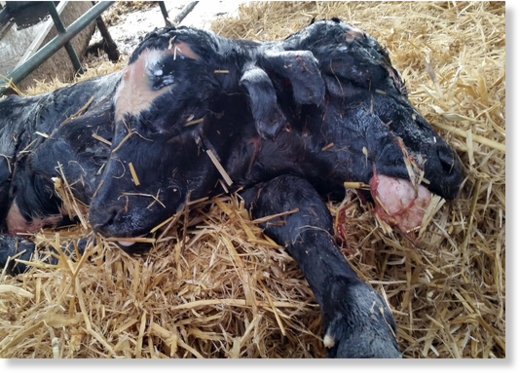 The world held its breath today amid Doomsday fears of an apocalypse - after a two-headed calf was born in Yorkshire.
The rare phenomenon of animals being with two heads is considered in many cultures to be a portent of disaster.
Dairy farmer Shaun Sowray, 55, told how the calf was delivered by Caesarean section on March 3 at his family farm in Harrogate, North Yorks.
Unlike other cases recorded, its heads were separated at the neck and it was born with four eyes, four ears, two mouths and four nostrils.
Experts say it is so rare that chances of it happening are one in 400 million - but warn of ancient mythology that claims the "monstrous" creature is an omen from God.
Stunned Shaun, 55, said: "I couldn't believe my eyes when I saw it.
"The cow was enormous. We actually thought she was going to have twins.
"I felt inside her and she was perfectly normal. She had fully dilated.
"I could feel the tips of the feet and the nose of the calf, but as I tried to pull it out I could see she was wincing in pain.
"I called the local vet and she came out to assist.
"She got it a little bit further forward.
"We started pulling and again she was wincing in pain so we stopped and started preparing for a Caesarian."
His nephew, Stephen, 23, who took over, said: "Me and the vet pulled the calf out.
"We put in on the floor, sorted the cow out and then looked down and I was like 'oh my God'.
"That's when we saw it had two heads.
"They were completely separated at the neck.
"It wasn't like they shared the same head.
"The two heads were perfectly formed. It was just incredible.
"The vet said she had never seen anything like it.
"The cells haven't divided properly."
The calf sadly died shortly after birth.
It was unable to stand up due to the weight of the two heads.
Shaun, who has farmed all of his life, said: "There was nothing out of the ordinary during the pregnancy.
"It's just one of those things.
Something from Mother Nature."