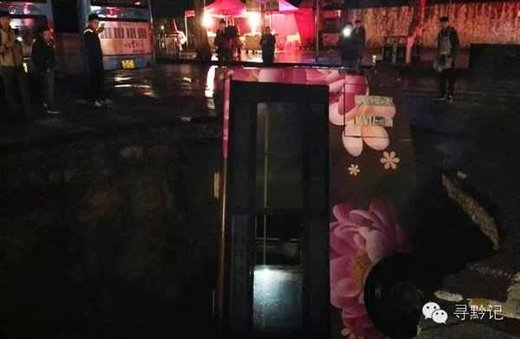 A shocking video has emerged of a bus disappearing into a sinkhole in Guiyang, south-west China's Guizhou province.
The bus was pulling into a bus station in the town when it was suddenly swallowed by a massive sinkhole in a matter of seconds.
According to Chinese media, the driver and two passengers were trapped inside for around 40 minutes while rescue teams tried to free them.
In the footage, a man can be seen coming out of a taxi smoking a cigarette.
The bus pulls into a bus stop nearby him and the next minute the bus is tipped up and then disappears into a giant hole.
Passersby can be seen rushing to the scene.
And the man who witnessed the entire ordeal can be seen phoning for emergency services.
According to Chinese media, the two passengers and the driver were taken to hospital for treatment. and the road administration arrived on the scene for the cleanup operation.
Shanghaiist
reports that the driver sustained serious head injuries during the accident.
Sinkholes are common in China.
In August last year, four people were taken to hospital with minor injuries after the pavement they were standing on, collapsed from underneath them.
After a few minutes, they managed to climb out of the hole.
While in the same month, a sinkhole swallowed an entire residential block killing one person in Guangdong province.