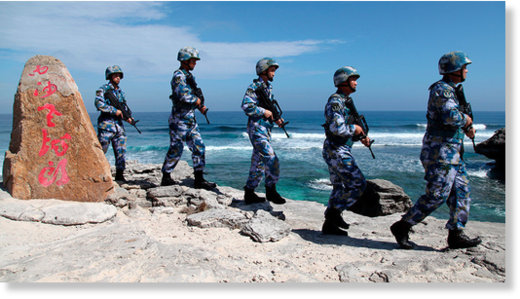 US Defense Secretary Ash Carter has warned China against militarizing the disputed island chain in the South China Sea and threatened "specific consequences" should Beijing not wind down its activities in the region.
Following China's deployment of surface-to-air missile systems on Woody Island last month, in addition to military aircraft, Carter stated that "China must not pursue militarization in the South China Sea" during a speech at the Commonwealth Club in San Francisco.
Woody Island is the biggest island in the Paracel chain in the South China Sea. China laid claim to the island in the 1950s, but the rights to the area, which is at the heart of economically important shipping routes in the South China Sea, are being contested by Taiwan, Philippines, Brunei, Malaysia and Vietnam.
"Specific actions will have specific consequences," Carter stressed."These activities have the potential to increase the risk of miscalculation or conflict among claimant states."
The US has been taking steps to counter China's growing influence in the region and has increased its regular naval patrols in the South China Sea, as well as air surveillance. Washington has also stepped up US-led war games with its Asian allies. In his speech Carter noted that the US would continue to conduct military navigation operations in the area.
"It should be clear that the US military will continue to fly, sail and operate wherever international law allows, as we do all over the world. Because the maritime domain must always be open and free to all," he said.
Carter also explicitly stated that Washington's interest in the area is focused on protecting the huge volume of trade that passes near the disputed territory.
"We all have a fundamental stake in the security of maritime Asia, including in the South China Sea. Nearly 30 percent of the world's maritime trade transits its waters annually, including approximately $1.2 trillion in shipping trade bound for the United States," he said.

Comment: Oh puh-leeze! The US wants to do with China what it has done with Russia, surround it with their imperial colonies and control China's influence so that it doesn't spread and threaten American hegemony. Too bad those efforts are doomed to fail.


On Monday, China warned Washington against acting as an "international judge" on the South China Sea issue. Beijing insists that the effort is primarily civilian and is meant to make the South China Sea a safer place.