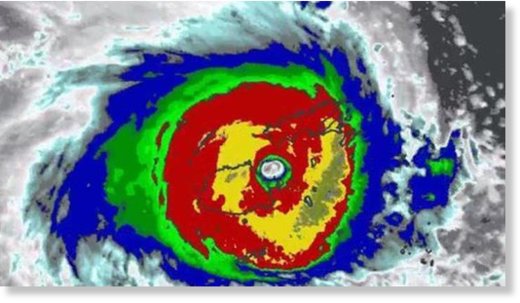 Tropical Cyclone Winston has made landfall on Fiji's main island with estimated
wind gusts up to 325km/h,
after the
government declared a state of emergency and imposed a nationwide curfew this afternoon.
The Category Five storm is thought to be the strongest ever recorded in the Southern Hemisphere,
and is the strongest the island nation of Fiji has ever experienced.
It began to make landfall on the main island of Vitu Levu after the curfew took effect at 6pm local time, a
fter earlier sinking boats and causing flash flooding on the nation's outer islands, including Vanua Levu.
Cyclone Winston has estimated average winds of up to 220km/h and gusts up to 325km/h, according to the Fiji meteorological office
.
About 750 evacuation centres have opened and international flights have been cancelled as the storm bears down.
Fiji's Prime Minister Josaia Voreqe Bainimarama has urged residents to stay safe, and its Cabinet has declared a state of natural disaster effective for the next 30 days.
"Tropical Cyclone Winston has begun its assault on Fiji. It is being described as one of the most powerful in recorded history - a Category 5 cyclone with winds approaching 300 kilometres an hour," Mr Bainimarama said in a statement.
"As a nation, we are facing an ordeal of the most grievous kind. We must stick together as a people and look after each other. Be alert and be prepared."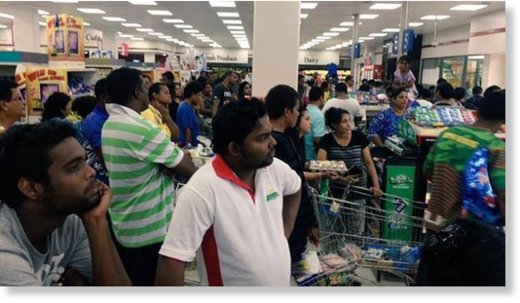 About 1200 Australians are thought to be in Fiji, with Emma Kavsic and Matthew Ryan among them.
"Terrifying, pretty scary... didn't sleep last night at all," Ms Kavsic told 9NEWS.
She and Mr Ryan have moved hotel rooms three times in preparation for the cyclone, she said.
"Got our little bunker set up, here's our bed, emergency bag with passports, bags, food and some water," Ms Kavsic said.
Earlier this afternoon, the Fijian government posted details of the curfew on Facebook, stating that everyone must remain inside after 6pm.
The curfew was a measure "designed to restrict movement and ensure the safety of all Fijians", the post read.
"The National Disaster Management has advised that a total public curfew will take effect across the country today from 6.00pm."
National Disaster Management Director Akapusi Tuifagalele told Fijilive that authorities were well-prepared.
"We are prepared to face a very strong cyclone and are urging people all over the country to be prepared as well," Mr Tuifagalele said.
"Our officers are stationed in every part of the country to assist our people and evacuation centres have been set up for people who may be at risk in their respective homes."
The UN humanitarian agency UNOCHA has said it is ready to support the nation's disaster management office if required.
There are also reports communication has been lost in many parts of Fi
ji.
Most public transport services in parts of Fiji stopped at 5pm local time, The Ministry of Rural & Maritime Development a National Disaster Management confirmed on
Facebook.