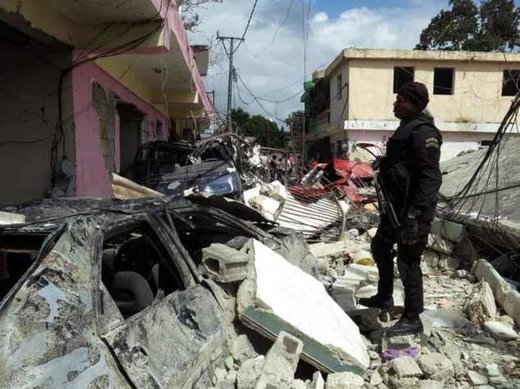 At least 40 people were injured when a liquefied petroleum gas distribution station blew up in Santo Dominto, Dominican authorities told EFE.
Eight of the injured are in serious condition with burns over 60 percent of their bodies, as well as suffering other injuries.
The explosion, which caused traffic chaos in the capital, also caused the collapse of a nearby three-story building, where firefighters are continuing to look for possible victims or survivors among the ruins.
Officials with the Dominican Association of Liquefied Petroleum Gas Distributors told EFE that the explosion occurred due to a gas leak caused by a faulty valve on one of the station's tanks.
The main problem facing firefighters and technical personnel was ensuring that the blaze did not spread to another large nearby tank that had to be constantly chilled to prevent a new tragedy.
The sources said that the LPG station was up to date with all its permits.
The majority of the injured were transported to Santo Domingo's Ney Arias Lora Hospital, where one of them is in "extremely serious" condition.
Hours after the explosion the column of smoke caused by the incident were visible from several kilometers (miles) away.
A large number of fire department and emergency units were dispatched to the scene.
The vicinity was completely evacuated and the northern portion of the city was shut down after the blast.
Emergency services director Rafael De Luna Pichirilo announced that heavy equipment is being deployed at the scene to remove the rubble and other debris.