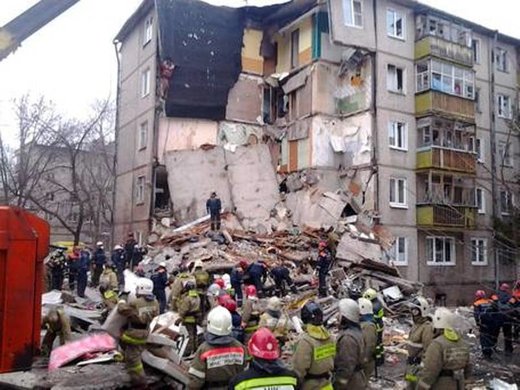 An entire section of a five story residential building in the Russian city of Yaroslavl has collapsed in a powerful gas explosion, which killed 7 people. The emergencies services say many are feared trapped under the rubble.
"Gas exploded in a five story residential building, the structure caved in from the first to the fifth floor," an emergencies ministry representative told RIA Novosti.
"People remain under rubble," the ministry confirmed, adding that at least ten flats have collapsed.
Rescue workers have taken seven bodies from the rubble. Kristina Guzovskaya of the Investigation Committee for the Yaroslavl region, has told Interfax that among the victims there are four women, one man and two children, possibly an 11- and 6-year-old.
The identities of the dead have so far not been verified.
Up to 17 people were registered in the destroyed apartments, according to governor Sergey Yastrebov.
So far four people have been rescued from the debris, and at least three - including a child - remain trapped. All of those rescued reportedly suffered serious injuries and fractures and were hospitalized in a critical condition.
There are conflicting reports as to the number of people that could have potentially ended up under the rubble. The emergencies ministry estimated that between seven people and 20 could have been home at the time of the incident. Out of those officially registered in the ten apartments, 13 are reported to be minors.
Rescue teams and fire crews continue working at the scene to save those trapped. More than 50 pieces of equipment were deployed as part of the search effort, in addition to almost 200 rescuers. Meanwhile the emergencies ministry is preparing to send two rescue helicopters equipped with medical modules to Yaroslavl to help evacuate those who have been wounded.
The residential building has been cut off from all communications and about 70 of its inhabitants have been temporarily accommodated at a local recreation center.
Emergency services working at the scene said that the threat of further collapse still remains, as the apartment building consists of four blocks.
The explosion took place on the fourth floor of the building, according to preliminary data. Ten out of the 20 flats in the block have collapsed, five of them completely.
Thus far, authorities are considering faulty gas equipment to be the main probable cause of the explosion, RIA reported citing a source at the scene.