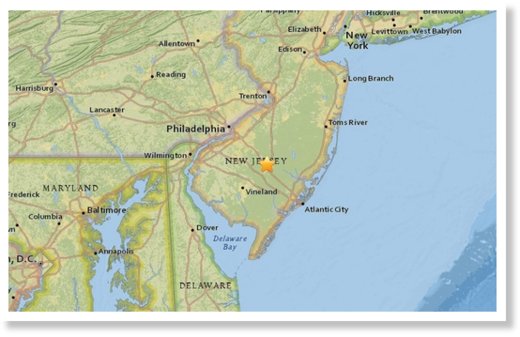 At least 10 sonic booms have been reported this afternoon (Jan. 28) from southern New Jersey along the East Coast to Long Island, New York, say scientists with the U.S. Geological Survey (USGS).
The first sonic boom was recorded at 1:24 p.m. EST (18:24:05 UTC), about 2 miles (3 kilometers) north-northeast of Hammonton, New Jersey, and 37 miles (60 km) south of Trenton, New Jersey. In the following hour and a half, seismometers picked up at least nine other sonic booms along the Eastern Seaboard all the way to Long Island, according to the USGS.
A spokesperson for the USGS said agency scientists there have no other information except that these were sonic booms and not earthquakes that were detected today.
A sonic boom occurs when an object (or an explosion) travels faster than
the speed of sound
(761.2 mph, or 1,225 km/h, at sea-level), sending out a shockwave that also travels faster than sound, according to John Bellini, a geophysicist with the USGS National Earthquake Information Center in Golden, Colorado.
The cause of today's sonic booms remains mysterious.
Bellini noted, however, that if an explosion had caused these booms, someone likely would have seen it.
Officials have also ruled out NASA's Wallops Flight Facility on Wallops Island in Virginia, which routinely launches small rockets and jet test flights from its Eastern Shore site. But today, no rocket launches or jet flights occurred at the NASA center, spokesman Keith Kohler said in an email.
Scientists knew these were seismic waves from
sonic booms
and not earthquakes because of their speed. "An earthquake moves through the ground and it moves 10,000 feet per second [3,048 meters per second]," Bellini told Live Science. In today's instance, the waves were moving away from the seismometers in New Jersey at speeds that would suggest they were moving faster than sound in the air. A seismometer that tracks waves moving through the ground can pick up a sonic boom, whose waves move through the air, Bellini said. But the seismometers usually have to be pretty close to where the boom occurs, because sound doesn't transfer well into the ground.
ABC News reported
that the U.S. Federal Aviation Administration and the North American Aerospace Defense Command had both confirmed they didn't have any planes operating nearby that could have generated the sonic booms.
No aircraft capable of sonic booms were operating at nearby naval air bases either, according to officials.
"We have reports of ground shaking in S. Jersey-- currently our training ranges are clear and no MDL aircraft are capable of sonic booms," officials at Joint Base McGuire-Dix-Lakehurst in Trenton, New Jersey, wrote on Twitter. "We're working with local authorities to determine the cause and will have an update ASAP."
UPDATE: The U.S. Geological Survey says the shaking was likely from a sonic boom.
Numerous social media users are asking whether the continuing tremors shaking parts of New Jersey are the result of an earthquake, or a seismic blast. By 3 p.m., the U.S. Geological survey had posted on its website that the tremors shaking parts of New Jersey on Thursday afternoon were the result of a probable sonic boom.
The shaking began at about 1:30 p.m. and prompted residents in counties along the shore to ask what had just happened. Several reports came from NJ Advance Media staff members living near the coast. Photographer Lori M. Nichols said that she did not hear anything, but felt her Brigantine home shake at 1:24 p.m. and again at 1:30 p.m. Brigantine residents then felt a third, larger tremor at about 2 p.m., and a smaller one 10 minutes later, according to Nichols.
Readers in Atlantic, Ocean, Cape May and Monmouth counties have also written in to say they felt their houses shake.
"Everybody's outside right now yelling to each other about what it was," Nichols said. "Across the street, someone said their room was shaking."
Barnegat police posted an alert on their Facebook page acknowledging the mysterious tremors.
"We are experiencing some minor seismic activity and we are investigating same," the alert said. "We will update further as we gather more info."
Other police departments in Ocean County as well as the Ocean County Sheriff's Office said they're aware of the tremors but asked residents not to call 911 to report them. Toms River police said they started receiving calls about the activity around 2:20 p.m. Ralph Stocco, spokesman for the department, said the local military bases "are not reporting any activity that could be associated with it."
In Brick Township, the tremors could be felt on an average of every 4 minutes starting at 1:30 p.m. before they started to subside at 2:40 p.m. Brick Township police Sgt. Neal Pederen said he doesn't know what was causing the shaking and the department has not been able to substantiate reports that it was an earthquake.