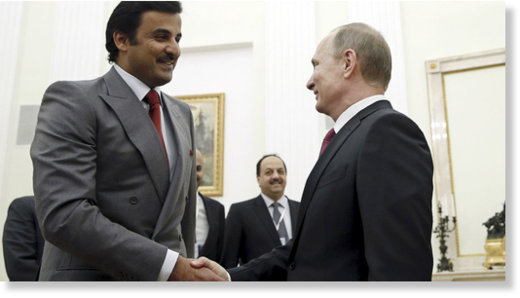 Vladimir Putin smoothed potentially fraught talks with Qatar's leader Tamim bin Hamad Al Thani by gifting him a falcon, the national bird of Qatar. The Russian leader has a history of presenting macho gifts to visiting dignitaries.
The footage, dating back from Monday, and broadcast by the Arabic-language channel Al Dawri, shows the Emir smiling as he confidently holds the hunting bird, with Vladimir Putin and other officials looking on.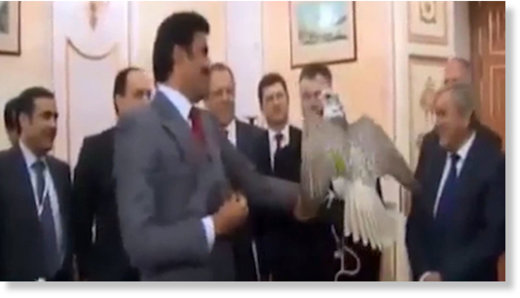 The falcon, used for millennia to hunt prey in the unwelcoming desert, is the symbol of many states in the Middle East, and is considered a byword for courage and grace. Predictably, a necessity has turned into a luxury pursuit, with wealthy Qataris spending hundreds of thousands of dollars on training and tracking the birds, before showing them off in falconry competitions.
The Emir visited the Russian capital primarily to discuss the ongoing Syrian crisis, where Moscow and Doha have backed opposing factions since 2011, and the falling energy prices, which have hit both states.
"Russia has a decisive role to play in establishing stability in the region," Al Thani said, as he left Moscow, after talks both sides described as "constructive."
Vladimir Putin has made symbolic gift diplomacy something of a trademark since first coming to power in 2000. Last year, he gave Egyptian President Abdel El-Sisi a vintage Kalashnikov, perhaps a reminder of the arms trade history between Moscow and Cairo during Soviet times, given as the two parties negotiated new deals. Venezuelan President Nicolas Maduro was offered a replica of the sword of Simon de Bolivar, the South American liberator, when he came to the Russian capital a year ago. Indian Prime Minister received another sword - an 18th century Bengal one - from the Russian leader, but also, a page from the diary of Mahatma Gandhi .