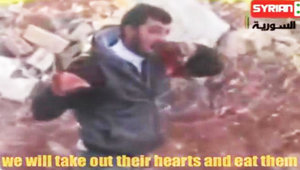 For those who have followed the meteoric - and completely implausible - rise of Islamic State, it's easy to become desensitized to the group's apparent brutality.
As we documented in "
Inside The ISIS Propaganda Machine: An Up-Close Look At A Militant Media Strategy
," the group produces nearly 40 pieces of propaganda each and every day via a sprawling network of discrete production units located in a dozen countries. Although most of the propaganda pieces actually aren't murder montages, many of them are and when you're churning out that much material, eventually you start to run out of ideas. That, presumably, is why more "creative" execution methods like drowning people in cages and hanging soldiers upside down from a swing set before lighting them on fire have recently given way to less imaginative, Kim Jong Un-style tactics like executing prisoners with a TOW and running people over with tanks.
Once you've seen enough of these clips, revulsion slowly turns to disbelief as the footage is at times so violent that one begins to question if it's real. As desensitizing as the material ultimately is, ISIS (or whoever is actually behind all of this) has a remarkable penchant for taking things up a notch just when you thought they had reached peak-sickening.
Case in point:
among a cache of documents the US claims to have recovered in a raid in Syria, we find "Fatwa Number 68" which explicitly sanctions organ harvesting from prisoners.
"The ruling, contained in a January 31, 2015 document, says taking organs from a living captive to save a Muslim's life, even if it is fatal for the captive, is permissible,"
Reuters reports
, adding that they "couldn't independently confirm the authenticity of the document [but] US officials say it was among a trove of data and other information obtained by US special forces in a raid in eastern Syria in May."
The raid they're referencing is the commando assault that killed ISIS "gas minister" Abu Sayyaf (profiled
here
). That operation netted seven terabytes of data in the form of computer hard drives, thumb drives, CDs, DVDs and papers, according to Brett McGurk, U.S. President Barack Obama's Special Presidential Envoy for the Global Coalition to Counter ISIL (and the man who
announced on Twitter
that the group's Iraqi FinMin was conveniently killed in a drone strike right around the time Russia began accusing Erdogan of trafficking Islamic State oil).
"The apostate's life and organs don't have to be respected and may be taken with impunity.
Organs that end the captive's life if removed: The removal of that type is also not prohibited," the Islamic State's Research and Fatwa Committee says (and yes, you read that correctly, they have a "research committee").
The "scholars" look to have justified organ harvesting by likening it to cannibalism, which is obviously fine:
"A group of Islamic scholars have permitted, if necessary, one to kill the apostate in order to eat his flesh,
which is part of benefiting from his body," the Committee continued.
McGurk says he hasn't been able to personally verify that any actual organs have been harvested, but Iraq's UN ambassador says 12 doctors were killed in Mosul this year after refusing to remove organs:
Senior U.S. officials, including McGurk, said they have not been able to ascertain whether the Islamic State had followed through on the fatwa on organ harvesting.

Iraq's ambassador to the United Nations, Mohamed Ali Alhakim, told Reuters the documents should be examined by the U.N. Security Council as evidence that Islamic State could be trafficking in organs to raise cash.
As Reuters goes on to write, "the group of documents reviewed is entitled 'Lessons Learned From the Abu Sayyaf Raid' - show how the Islamic State has provided a legal justification to its followers for a range of practices. For instance, "Fatwa Number 64" dated January 29, 2015, provides detailed rules for rape, prescribing when Islamic State men can and cannot have sexual intercourse with female slaves."
The media has long reported on Islamic State's human trafficking activities and according to
a new piece at the Gatestone Institute
,
the people smuggling takes place in the same place as the illegal oil trafficking: Turkey.
Gatestone cites German TV channels NDR and SWR which "
for weeks accompanied a Yazidi negotiator, who, on behalf of the families, negotiates with the IS for the release of the slaves and their children. ... the women are sold in a digital slave market to the highest bidder
." NDR and SWR continue:
"The transfer of money, as the reporter discovered, takes place through a liaison office in Turkey."
Here's more:
The negotiator told NDR and SWR that in the course of a year, he transferred more than USD $2.5 million to ISIS from the families of 250 Yazidi women and children, in order to free them.

He also said that to advertise the slaves, ISIS assigns numbers to the female and child slaves, and posts their photographs on the WhatsApp Messenger smartphone app.

Mahmut Togrul, an MP of the pro-Kurdish Peoples' Democratic Party (HDP), in a motion to Efkan Ala, Turkey's Interior Minister, asked about the alleged office where ISIS members engage in slavery and the sex trade. His questions included: "How many liaison offices affiliated with ISIS terror organization are there in Gaziantep? If there are, do those liaison offices have any legal basis? Under what names do these offices operate? Are those offices affiliated with any institution?"
All good questions which we're quite sure will not be answered by Ankara. Needless to say, this is just further evidence of Turkey's complicity in the types of illicit businesses that keep Bakr al-Baghdadi's caliphate well funded.
So, if anyone needed further proof of why the US - gun to its head - will have to invade Syria and re-invade Iraq, there it is.

Comment: There will be no "gun to the US' head". The US IS the 'gun'.


ISIS isn't just a group of bloodthirsty, black flag-waving jihadists hell bent on establishing a Medieval caliphate, they're a bloodthirsty, black-flag waving, flesh-eating, organ harvesting, sex slave trafficking band of marauding desert bandits and they must be stopped at all costs.
Unless by "all costs" you mean allying with the Russians. Or the Iranians. Or Assad. Or Hezbollah.
Below, find what Reuters says is a "US government translation" of the organ harvesting fatwa. Ask yourself why, if it's a "US government translation", it comes complete with the ISIS logo, graphics, and stamps. That is, why would the US go back and add all of that in? Why wouldn't they just release a plain text version of the translation? Perhaps it was in English from the beginning.