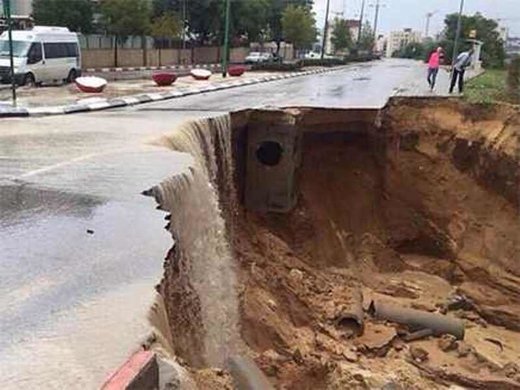 Schools and roads engulfed as downpour drowns coastal city with 92 millimeters in a single hour
Nearly 10 centimeters of rain fell in only one hour Thursday in the southern coastal city of Ashkelon, flooding schools and kindergartens, bringing chaos to roads, and setting a new meteorological record for rainfall in a single hour.
Local police and firemen were out in force in kayaks, rubber rafts and all-terrain vehicles to bail out drivers and pedestrians stranded by the torrential downpour.
Two lanes collapsed on Ben Yehuda Street, and Bialik and Hatayassim streets were deluged and had to be closed.
Reports came in of flooding at the city's Beit Hehezkel and Neve Dekalim schools and at several city kindergartens. Staff at Barzilai hospital mopped up rainwater that had seeped in and continued work as normal.
The Israel Meteorological Service reported from its Ashkelon station that 112 millimeters of rain fell between 7 a.m. and noon Thursday, while the the station of the Local Towns Association — which is automated and measures rainfall constantly — registered 118 millimeters.
Of that rain,
a national record of 92 millimeters fell in 60 minutes
— breaking the previous record for a downfall in an hour of 88 millimeters, set by Haifa University in October 2008. Ashkelon now also has the dubious honor of holding first place for the most rain in half an hour — 67 millimeters.
Rain in northern Israel meanwhile raised the level of the Sea of Galilee, adding 1.5 centimeters. With most of this winter's rain having fallen in central and southern Israel, however, the lake is still only 4 centimeters above the lower red line.
In other parts of the county, 29 millimeters fell in the Golan Heights moshav of Ma'aleh Gamla, 19 millimeters at the Tzemah junction just south of the Sea of Galilee, and 8 millimeters in Tel Aviv. Heavy rain also fell in the southern coastal city of Ashdod.
Rain is expected to continue throughout the country Thursday and there is a fear of flooding at the Dead Sea and in the Judean Desert.