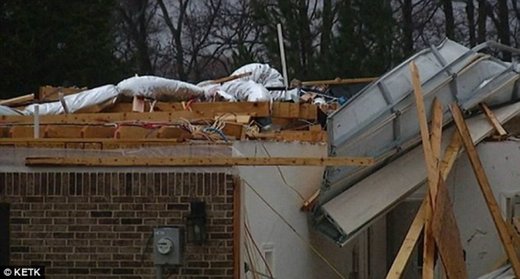 Rare December tornadoes surprised East Texas on Saturday afternoon, damaging 50 homes, destroying a bridge and injuring two people.
At least one tornado, probably two, touched down around 4pm in Lindale, about 90 miles southeast of Dallas, according to
KETK
.
The mayor has issued a declaration of disaster for the city.
'We saw these clouds and these little tornadoes that were shooting down and then one hit the ground. We saw it hit the ground, witness Melissa Malone told the outlet. 'From there we called 911 and immediately alerted them and the sirens started going off.'
Eyewitness Autum Green spotted the twisters forming on Iron Mountain Road in Lindale and captured them with her cell phone.
'It was kind of cool watching it build up, but I was really scared,' Green said, adding that she normally gets weather alerts, but none came with the tornado.
'On the movie Twister where they had the two tunnels come through, they twirled around each other, that's what it looked like,' she said.
The National Weather Service did not send out warnings and people in Lindale were caught completely unawares
, reports the outlet.
Green said she and her husband were able to find shelter, and their home was spared.
The Red Springs fire department offered assistance to anyone affected by the tornado, but despite reports of 50 damaged homes, reportedly no one showed up to seek it.
While only two people were reported injured, officials say electricity is knocked out in the area and it's unclear when it might return, according to
NBC DFW
.
ONCOR reported that at least 10,000 people in East Texas were without power, according to
CBS 19
.
In Tyler, flooded streets meant first responders had difficulty getting around town, said the outlet.
Severe weather patterns disrupted the area through Sunday.
Showers that contained strong winds derailed a train near the intersection of Old Mill Road and N. John Redditt Drive in Lufkin Sunday, reported
Weather.com
.
The derailment occurred around 7:15am, leaving 64 rail cars off the tracks. Luckily, the train was a cargo train, not a passenger train.
Officials are working to right the train.
A tornado also reportedly ripped through Willis and Winnsboro. Flash flooding was reported in Titus, Rusk and Smith counties.
The storm surge reached all the way to Louisiana, causing downed trees and power lines in Shreveport.