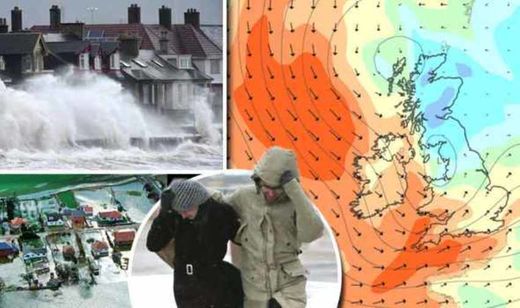 Gusts of 80mph threatened to topple trees, close roads and bridges and cripple transport networks while heavy rain threatened further flooding. Another furious storm system is about to rip in from the Atlantic on Wednesday whipping up 80mph gales and torrential downpours.
Swathes of the country are on heightened flood alert as rivers continue to swell amid forecasts of more heavy showers. A twist in the "atrocious" weather at the weekend will see a bitter Arctic blast trigger sub-zero temperatures and snow.
A double-whammy of misery will see torrential downpours clash with freezing northerly winds sparking warnings to expect blizzards. Wintry showers are forecast widely by the weekend with a dusting of white possible even to low ground in the south.
Scotland and the north will take the brunt of the winter blast as temperatures plummet to -6C (21F) allowing several centimetres of snow to settle. The Met Office has severe weather warnings in place for wind and rain into the early hours of Wednesday.
It said the worst of the battering was due last night (Tuesday) with southern, western and central regions braced to take the brunt.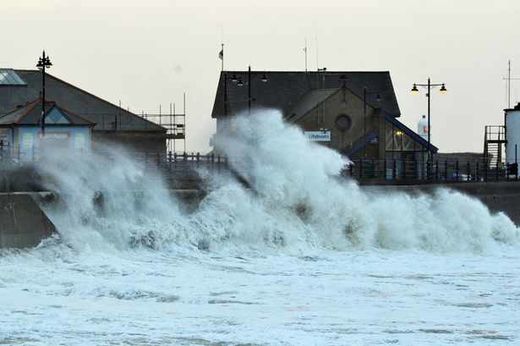 Spokeswoman Nicola Maxey said: "There are more gales likely on Wednesday across parts of the country and it will be chilly in the north. "Thursday remains unsettled and thins we head towards the weekend it is getting much colder with the risk of hail, thunder and snow.
"There will be a big dip in temperatures with snow likely over high ground but there is the chance of wintry showers to lower levels."
Barney is the second named storm of the season following Abigail last week in a joint Met Office, Met Eireann initiative to 'name our storms'. As the unsettled weather continues Cumbria, Lancashire and parts of Yorkshire remain on flood alert with heavy rain set to last through the week.
AccuWeather Meteorologist Eric Leister tonight warned Wales and the south west to batten down the hatches for a windy night. He said: "Barney will be a fast-moving storm, bringing locally strong winds to southern Ireland and the southern UK continuing into Tuesday night.
"Winds will gust to 75 mph (120 km/h) in the areas hit hardest, including Cardiff, Plymouth and Bristol through Tuesday night.
"Winds to this speed can down tree limbs, cause power outages and result in minor to moderate coastal flooding, especially at high tide.
"Right on the heels of Barney, the next storm will bring another round of gusty winds and rainfall to similar areas on Wednesday"
Leon Brown forecaster for The Weather Channel UK, said after a wet and windy week Britain's weather is about to turn wintry.
He said: "Wednesday will be another blustery day too with fresh to strong winds and rain across the north spreading south and east, and then a lot of showers following.
"It is another wet day across the southern half of the UK on Thursday and the far south on Friday while the north starts to turn colder.
"Moderate snowfalls are expected across central Scotland on Friday before an area of sleet and snow moved southwards across northern England to the Midlands and East Anglia by Saturday morning giving a few centimetres over hills."
Read more
here