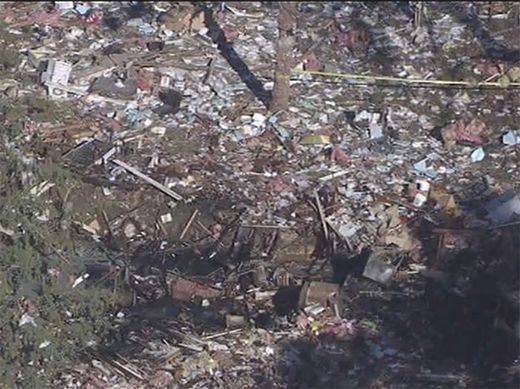 A man who was inside his Redford Township house when it
exploded
Sunday evening
has died
, according to police.
William Rice, 58, died of his injuries Tuesday, the
Detroit Free Press
reports.
The blast was caused by a fuel oxygen mixture, police said. It appears Rice was using propane to heat the house in the 19000 block of Gaylord. The house hadn't been hooked up to natural gas since 2004, a spokesman for DTE Energy said on Monday.
Redford Township Police Department Detective Sergeant Kevin Crittenden said two sources of propane were found among the debris of the home.
A friend of Rice's told WXYZ-TV that Rice had
just reached the threshold of his house when it exploded
.
Along with other neighbors, Steve Hinzman rushed to assist Rice, who Hinzman said was laying in a pool of fire. Four men tried to pull Rice from the flames.
"I got burn marks all over my hands," Henzman told WXYZ. "I had his burnt flesh and blood all over my arms."
According to reports, Rice was conscious when he was rushed to Botsford Hospital in Farmington Hills.
The massive explosion blew out windows of neighboring homes
, hurtled a burning couch across the street and
scattered debris within a 1,000-foot radius
. The impact could be
heard and felt from three miles away
, according to some posts on social media.