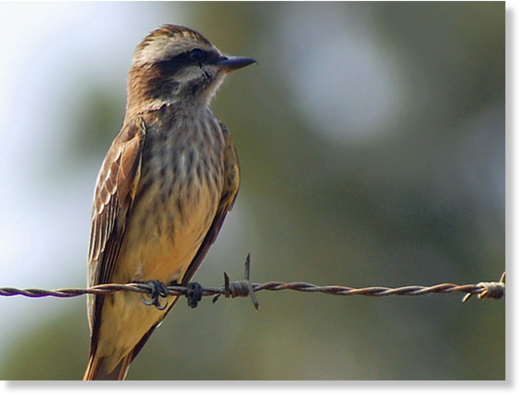 The city's latest tourist hot spot is a cemetery.
Birders have been flocking to Evergreen Cemetery since Saturday, when
a South American bird only seen five previous times in the United States and Canada
was spotted, sending online message boards a-twitter.
The variegated flycatcher has attracted several hundred people from across the country, who are delighted it's still hanging around the graveyard at the end of Southeast 13th Street east of Federal Highway. The bird hasn't been camera shy and is providing nice views for visitors.
But its notoriety stems more from its scarcity than its beauty.
"It doesn't look spectacular, but just think of how far this bird flew from South America,"
said Jacque Woodward, who drove a fair distance herself from near Lake Wales to see the bird on Tuesday.
Lucie Bruce and Nick Cooney flew in from Texas and spent parts of Monday and Tuesday at the cemetery, thankful the bird hadn't been eaten by a hawk or scared away, as can often happen.
"That's why, when it's on the Internet, you try to come out as fast as you can," said Bruce, who is in the top-50 of North American birders, with the variegated flycatcher making No. 824 on her list.
The flycatcher is not a very colorful bird. It's brown on the back, with streaks in front on its pale-yellow belly, tail-feathers with reddish-brown edges and it looks as if it's wearing a mask.
"It's just about the rarity," Bruce said.
The bird is far astray from its typical migratory route that seldom takes it out of South America.
"It's lost and it's just making a living," said Billi Wagner, who came from Vero Beach to see it.
It's not the first time the cemetery has been host to a rare bird sighting.
The Broward-based South Florida Audubon Society says the cemetery is a "magnet for migrating birds" and has previously been visited by the very rare rufous and Allen's hummingbirds and the sulphur-bellied flycatcher.
The society's Russ Titus was leading a field trip to some of the city's best bird-watching areas when he saw the variegated flycatcher emerge.
"The bird popped out of a fig tree and was eating berries," Titus said. "It's really distinctive" and took just a few minutes to identify, he said.
Titus is hoping the bird likes the cemetery and stays a while. One spotted in Toronto in 1993 stayed a month, he said, while another in Jacksonville in 2013 was gone in less than an hour.
"We have already put the sighting on our website, so bird watchers everywhere know they don't have to go to South America to see that bird," said Nicki Grossman of the Greater Fort Lauderdale Convention & Visitors Bureau. "Hopefully, it'll find a reason to stay."