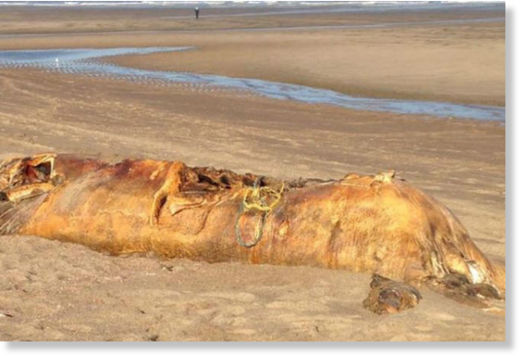 A warning has been issued to the public not to approach a dead whale which has washed up on a Lincolnshire beach.
Coastal experts have confirmed that the large brown carcass spotted on the beach at Huttoft is a whale, but cannot yet identify which species it is.
However they have warned that the carcass could leak bodily fluids which are harmful to dogs.
A maritime operations officer for the east coast and Humber, said: "The local [coastguard] team has been out to the whale.
"It was two days ago that the team was called out to it.
"One of the Coast Guard's roles is to report any royal fish, anything that is the Queen's fish, to the Natural History Museum.
"We have had three wash up on the east coast of England. It is not an irregular thing, although it is for Lincolnshire."
He said there are still discussions ongoing about what should be done next, but added that there will be no lasting effect on wildlife or the beach when the carcass is gone.
It could either be disposed of, if the Natural History Museum confirms it does not want the carcass for autopsy, or carcasses can also be left to "go naturally".
Six team members from the Mablethorpe Coast Guard were called out after the carcass was first spotted.
The carcass is so badly decomposed it confused people as to what animal it was.
A photo of the creature was posted to social media in a bid to find out what it was.