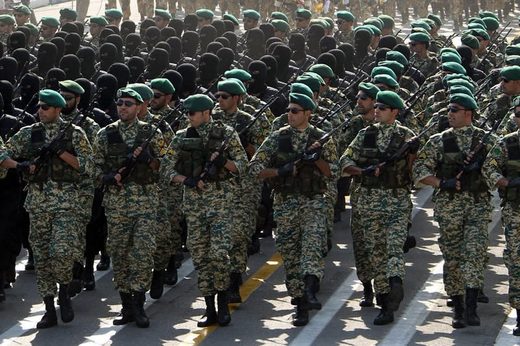 Hundreds of Iranian troops are being deployed in northern and central Syria, dramatically escalating Tehran's involvement in the civil war as they join allied Hezbollah fighters in an ambitious offensive to wrest key areas from rebels amid Russian airstrikes.
Their arrival, a regional official and Syrian activists said Wednesday, highlights the far-reaching goals of Russia's military involvement in Syria. It suggests that, for now, taking on Islamic State extremists in eastern Syria seems a secondary priority to propping up President Bashar Assad.
The development is almost certain to increase pressure on Western-backed rebels, who are battling multiple foes, and push more civilians out of the areas of fighting, potentially creating a fresh wave of refugees.
Russia began its air campaign Sept. 30, and Syrian troops and allied militiamen launched a ground offensive against rebels in central Syria a week later. Russia says its airstrikes are meant to weaken the Islamic State group and other "terrorists" in Syria, but Western officials and Syrian rebels say most of the strikes have focused on central and northern Syria, where the extremist group does not have a strong presence.
The official, who has deep knowledge of operational details in Syria, said the Iranian Revolutionary Guards — currently numbering around 1,500 — began arriving about two weeks ago, after the Russian airstrikes began, and have accelerated recently. The Iranian-backed group Hezbollah has also sent a fresh wave of fighters to Syria, he told The Associated Press.
Iranian and Syrian officials have long acknowledged Iran has advisers and military experts in Syria, but denied there were any ground troops. Wednesday's statements were the first confirmation of Iranian fighters taking part in combat operations in Syria.
The main goal is to secure the strategic Hama-Aleppo highway and seize the key rebel-held town of Jisr al-Shughour in Idlib province, which Assad's forces lost in April to insurgents that included al-Qaida's Nusra Front.
The loss of Jisr al-Shughour, followed by the fall of the entire province, was a resounding defeat for Assad, opening the way for rebels to threaten his Alawite heartland in the coastal province of Latakia. The official suggested the Syrian army's alarmingly tenacious position around that time is what persuaded the Russians to join the fray and begin airstrikes two weeks ago.
The Syrian government and Iran had been asking Russia to intervene for a year, the official said, speaking on condition of anonymity because he was not authorized to discuss military affairs. He said the Russian "tsunami wave" has given allies such as Iran the cover to operate more freely in Syria.
His account of Iranian troops arriving ties in with reports from Syrian opposition activists, who reported a troop buildup in the northern provinces of Idlib and Aleppo. The Syrian Observatory for Human Rights also reported Wednesday that Iranian troops were arriving and being transported to a military base in the coastal town of Latakia, in the town of Jableh outside the provincial capital.
At least two senior Iranian commanders were killed in Syria in recent days, including Gen. Hossein Hamedani, a senior Revolutionary Guard commander, who died Oct. 8 near Aleppo.
"Syria will witness big victories in coming days," said Gen. Mohammad Ali Jafari, chief of Iran's Revolutionary Guard, speaking Monday at Hamedani's funeral.
"Sending more troops from Hezbollah and Iran only increases the shelf life of the Syrian regime, which is destined to end," Maj. Jamil Saleh, the leader of Tajammu Alezzah, a CIA-backed Free Syrian Army faction, told the AP. "It will only add more destruction and displacement."
He said their presence in Syria is not new but had been kept quiet. "Now they are taking cover behind Russia since it is a super power and strengthens their position," Alezzah said.
Comment:
The "Free Syrian Army" is a joke.
Moscow ready for contact with phantom Free Syrian Army
Russian Foreign Minister Sergey Lavrov:
"We will be ready to establish contact with it if it's really a capable military group of patriotic opposition consisting of Syrians. We do not hide this fact. But this structure is already a phantom. I have asked [State Secretary] John Kerry to provide us with information about the whereabouts of this Free Syrian Army and who commands it,"

"So far no one has told us where and how this Free Syrian Army operates or where and how other units of the so-called moderate opposition operate."
The Syrian army began its offensive a week ago against rebels on three major fronts in areas between Idlib and Hama. To the north, the Islamic State group capitalized on the strikes against rebels in northwestern and central Syria to capture a string of villages and a main military base from insurgents that brought them closer to Aleppo, Syria's largest city.
"They took advantage of the vacuum," said Lt. Colonel Ahmed Saoud, commander of 13th Division, a rebel group that is part of the Free Syrian Army. The group is a staunch IS opponent and operates in Aleppo.
J.M. Berger, a nonresident fellow at the Brookings Project on U.S. Relations with the Islamic World, said the moderate rebels "are in a pretty bad spot, unless the West is prepared to sponsor them over the long term in a full-on proxy war against the Russians."
Such support would be "a complicated proposition," he added, given that a lot of the materiel the U.S. has sent to moderate rebels has ended up in the hands of jihadists.
Mathew Henman, head of IHS Jane's Terrorism and Insurgency Centre, said the Russian airstrikes against more moderate, nationalist elements of the opposition has facilitated IS territorial gains in these areas, ultimately "leaving the government and its allies principally in a conflict with hard-line, fundamentalist actors."

Comment: "Facilitated ISIS gains"? Just like the complaints that 'Russia caused civilian casualties', no proof is offered for this assertion.


The official who spoke to AP all but confirmed that the Islamic State is not the priority for the Syrian troops and their allies, saying most areas held by the group in eastern Syria are desert regions considered to be on the periphery.
A week into the multipronged offensive, insurgents say they are overstretched, exhausted and their ammunition is depleted. There have been hundreds of sorties in an area that stretches for about 60 kilometres (about 35 miles), and a significant mobilization of ground troops.
And yet, rebel commanders say the offensive has failed to dislodge the various insurgent groups from territory they control that leads to the heartland of Assad's power. The rebels are backed by the U.S., Saudi Arabia, Turkey and Qatar, including some ultraconservative groups and al-Qaida affiliates.
Instead, the rebel groups are still pushing back. Some are using U.S.-delivered TOW anti-tank missiles, while others are resorting to tactics such as booby-trapped cars.
Charles Lister, a Syria expert at the Brookings Doha Center, said much will depend on how quickly and efficiently the rebels' weaponry can be replenished by the states supporting them.
The CIA-backed rebels shrugged off criticism of co-operating with al-Qaida.

Comment: Of course they did. al-Qaida is another CIA creation. They are brothers-in-arms.


Saoud, the 13th Division commander whose fighters received TOW missiles, said he worked in the same trench with a faction from the Army of Conquest. That umbrella group includes militants from the Nusra Front.
"There is now something bigger than our differences and disagreements. It is the Russian invasion," he said. "It is an emergency situation. Everyone would understand that."
Saoud said only one of his bases was hit by the Russians, with few casualties. The rebels have kept a lid on their casualty figures, just like the Syrian government.
"With all that firepower, with new launchers and a hail of airstrikes ... they were not able to advance," Saoud said of the government troops. "In my mind, that is a victory."
Via The Associated Press