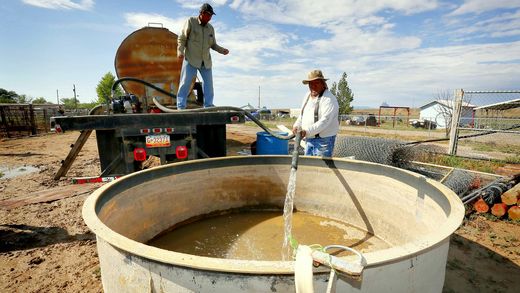 For many in North America, the notion of a community without access to clean water seems like something that would only exist in a far-off, undeveloped country. Yet impoverished indigenous communities throughout the continent don't have clean water or, in some cases, any running water at all.
For members of the Navajo Nation, and some of Canada's First Nations tribes, the struggle to get clean water is a part of daily life.
The Navajo Nation
According to
a January report from NPR's Laurel Morales
, about 40 percent of the Navajo lack running water and must painstakingly conserve the water they receive from monthly deliveries. While these members of the Navajo Nation make do with an average of about 7 gallons of water per day, the
average American uses 80-100 gallons of water per day
, including all the uses of water in their home from cooking to cleaning to flushing the toilet.
Many of the Navajo Nation's water insecure must make an arduous drive on often unpaved and dangerously muddy roads to a clean water spigot at the St. Bonaventure Indian Mission, in the town of Thoreau, New Mexico, or rely on monthly deliveries from a tanker truck, sponsored by the same organization. The latter service is especially vital, because many residents do not have cars,
as CBS News reported
during an August visit to the region.
Dan McCool, a political science professor at the University of Utah, who studies the water rights of Native Americans, told CBS the situation is a "national embarrassment."
"How is this possible in this day and age that Americans don't have running water?" he asked.
One source of hope is a nonprofit called
DIGDEEP
, which has started a lengthy — and costly — project to improve water access by digging a new well.
Watch "
The Navajo Water Lady
" from CBS' "Sunday Morning":
Canada's 'Waterless Communities'
Vice recently profiled two of Canada's First Nations tribes, whose members also lack access to clean water. According to Vice reports, 169 First Nation communities have limited or no access to clean running water.
The Neskantaga First Nation has been under a "boil water" advisory since 1995, meaning the tribe has lacked reliable access to clean water for over 20 years
. As
Vice reported last month
, a new water treatment facility opened in 1993, but failed after just two years. With water that currently tests positive for chlorine and other carcinogens, residents depend on bottled water or reverse osmosis filters which can slowly remove the toxins.
Despite declarations by Canadian parliament that every community should have clean water, the Neskantaga community keeps falling in the government's priorities — literally, according to a list of which First Nations communities receive most funding for clean water shown in the Vice documentary.
Another tribe that's gone without clean water for almost as long is Shoal Lake 40, a tribe living on an isolated, man-made island about an hour outside of Winnipeg.
Although their community is surrounded on one side by clean, filtered water destined for Winnipeg's taps, the water that supplies the Shoal Lake 40 community is untreated and has been subject to a boil advisory for the last 17 years.
The isolated conditions created by the Winnipeg aqueduct also prevent easy shipping of supplies and restrict travel for community residents, who are at risk of drowning when they must take boat trips to do basic shopping.
CTV News, a Canadian TV news network, reported last week that the
Shoal Lake 40 First Nation intends to take their case to the United Nations
in February 2016:
"Chief Erwin Redsky said his delegation will outline 'all the human rights violations we suffer daily,' including a lack of clean water, no freedom of movement and inadequate health care and education.

'We're going to tell the world what's going on in Canada here, specifically to Shoal Lake 40, what's been going on for 100 years now,' he said."
Watch "
Canada's Waterless Communities: Shoal Lake 40
" from Vice: